2021 Year End Review of Work Order Numbers
---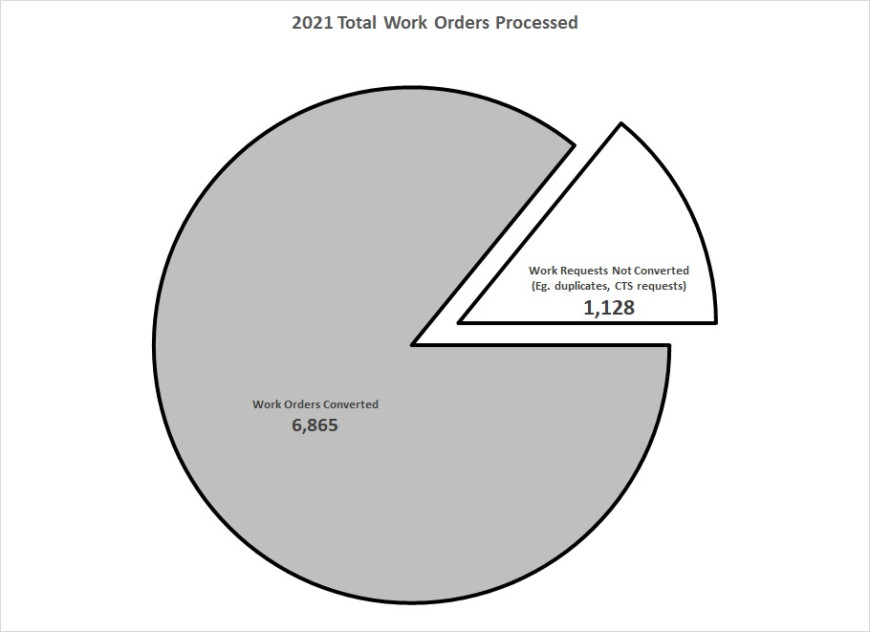 In 2021, Facilities Management received 7,993 work requests, an increase from the 6,139 work requests made in 2020. Of these, 1128 (15%) were not converted into work orders, either because they were duplicates of existing work orders, belonged to a different department (Eg. Campus Technology Services), or because they were not actionable.
---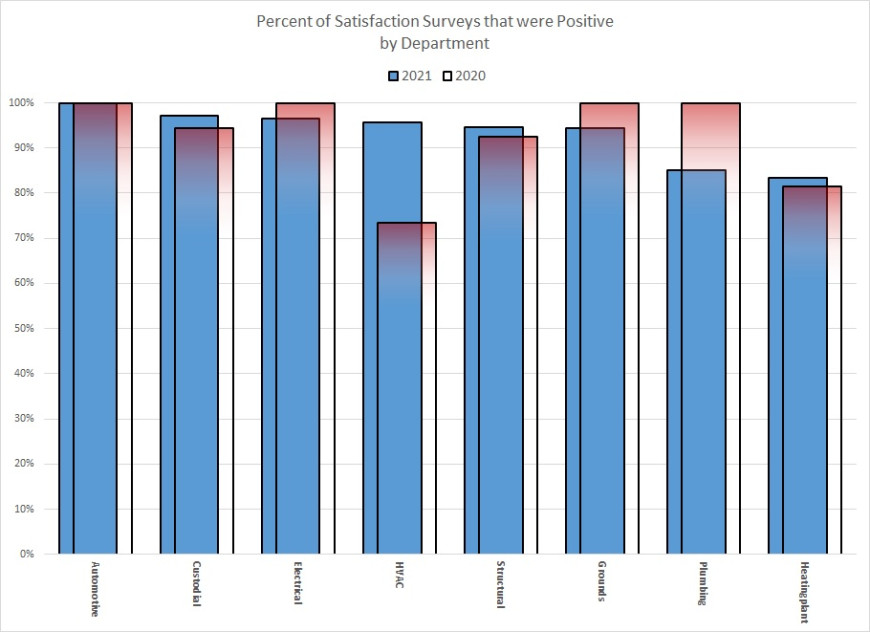 For all work orders closed in the system, customers are sent a satisfaction survey that asks users to rank staff professionalism, repair time, and satisfaction with the repair on a 5-point scale ranging from "Very Dissatisfied" to "Very Satisfied". For those surveys that are filled out with a "Dissatisfied" or "Very Dissatisfied" answer, outreach is performed to the user to clarify their submission response and corrective action is taken (Eg. opening the work order for additional work, discussing with staff). Overall, 613 surveys were submitted of which 576 (94%) reported an overall positive satisfaction. This represents a 10% survey submission rate.
The Structural department received the greatest number of surveys at roughly half of the total submitted, however, they ranked fifth for overall satisfaction. Most departments had an increased satisfaction rating, less the Electrical, Grounds, and Plumbing departments. For Grounds, this change may be due an increased response rate (over twice the amount from the previous year) rather than a general decrease in satisfaction. Of note, the HVAC department's survey satisfaction rate increased by over 20% while also increasing in the number of surveys from the previous year.
The following are the departments and their satisfaction rates for 2020:
Automotive - 100% (equal to previous year)
Custodial - 97% (up from 94%)
Electrical - 96% (down from 100%)
HVAC - 96% (up from 73%)
Structural - 95% (up from 93%)
Grounds - 94% (down from 100%)
Plumbing - 85% (down from 100%)
Heating Plant - 83% (up from 82%)
---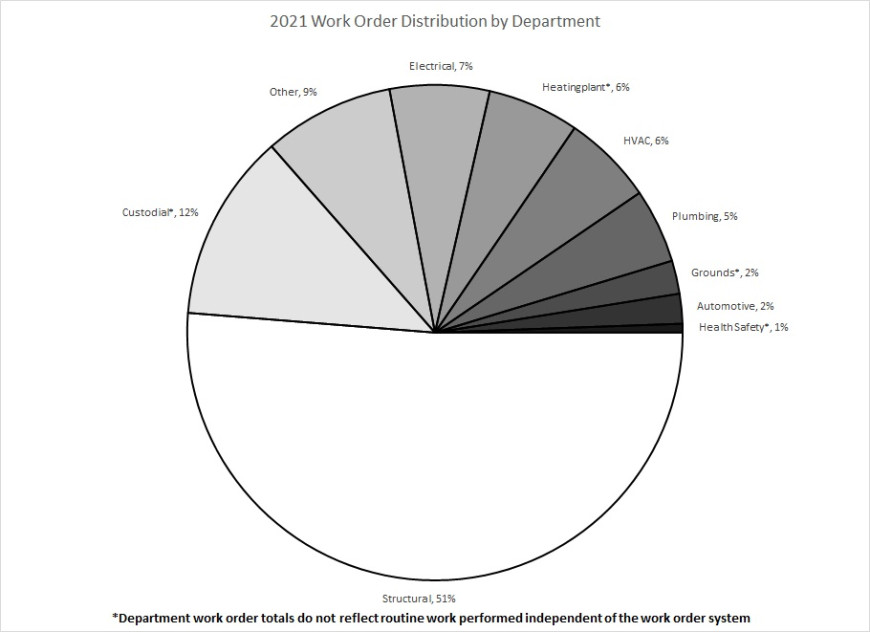 The Structural department accounted for over half (51%) of all work orders assigned, followed by Custodial (12%) and Other/Contracted Work (9%). Please note that these distributions may not fully reflect the volume of routine work that is performed independent of the work order system by departments such as Custodial, Heating Plant, Grounds, and Health Safety.
The following are the departments and their percentage of FMG work orders:
Structural - 51%
Custodial* - 12%
Other/Contracted Work - 9%
Electrical - 7%
Heating Plant* - 6%
HVAC - 6%
Plumbing - 5%
Grounds* - 2%
Automotive - 2%
Health Safety* - 1%
---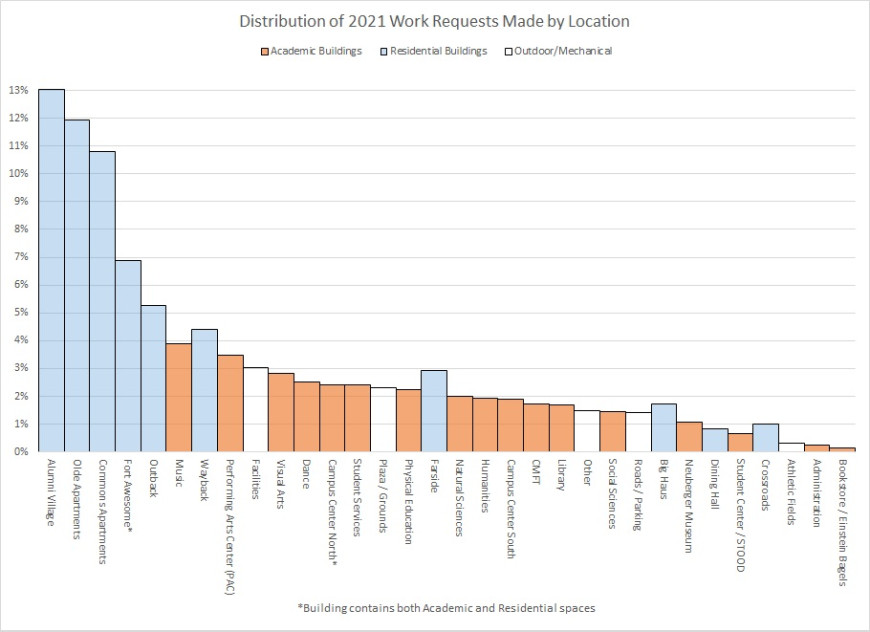 When accounting for work order location, the majority of work orders were submitted within residential buildings (59%), followed by academic (33%) and lastly outdoor/mechanical spaces (9%).
Of those work orders completed across the ten residential buildings/areas, the three apartment buildings (Olde, Alumni Village, and Commons) comprised well over half of all residential work orders. Similarly, the three apartment buildings comprised roughly half of all bed spaces within residential buildings during this period, so the higher volume of work requests is not necessarily indicative of a greater number of issues within the buildings themselves.
The following are the buildings (groupings) and their percentage of FMG work requests:
Alumni Village (Residential) - 13%
Olde Apartments (Residential) - 12%
Commons Apartments (Residential) - 11%
Fort Awesome (Residential) - 7%

Building contains both academic and residential spaces

Outback (Residential) - 5%
Music (Academic) - 4%
Wayback (Residential) - 4%
Performing Arts Center (PAC) (Academic) - 3%
Facilities (Outdoor/Mechanical) - 3%
Visual Arts (Academic) - 3%
Dance (Academic) - 3%
Campus Center North (Academic) - 2%

Building contains both academic and residential spaces

Student Services (Academic) - 2%
Plaza / Grounds (Outdoor/Mechanical) - 2%
Physical Education (Academic) - 2%
Farside (Residential) - 3%
Natural Sciences (Academic) - 2%
Humanities (Academic) - 2%
Campus Center South (Academic) - 2%
CMFT (Academic) - 2%
Library (Academic) - 2%
Other (Outdoor/Mechanical) - 1%
Social Sciences (Academic) - 1%
Roads / Parking (Outdoor/Mechanical) - 1%
Big Haus (Residential) - 2%
Neuberger Museum (Academic) - 1%
Dining Hall (Residential) - 1%
Student Center / STOOD (Academic) - 1%
Crossroads (Residential) - 1%
Athletic Fields (Outdoor/Mechanical) - <1%
Administration (Academic) - <1%
Bookstore / Einstein Bagels (Academic) - <1%
---
Department-specific data to be added soon…