Director's Note
This fall semester is off to a fast start. This week is our "meet the new students" event where current EOP/MAP students have the informal setting opportunity to meet our newest member of the EOP/MAP family: our new freshman and sophomores!

We have already hired 9 academic coaches/study group leaders and tutors. We hope many of our students will take advantage of this service.

We are all proud of our own, Glory Rojas, EOP counselor who was presented last week with the SUNY Chancellor's Award for Excellence in Professional Service. This is the highest honor among SUNY professionals.

The Peer mentors began their office hours this week to help guide our new freshman in their first semester of college. If you would like to be a peer mentor, applications are available in March of every year for summer employment.


---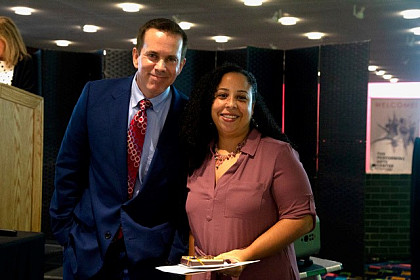 Congratulations Glory Rojas, EOP counselor for being awarded the highest honor among SUNY professionals: The Chancellor's award for Excellence in professional service! Glory is shown receiving her award from Dennis Craig, Vice President of Student Affairs and Officer in Charge.
---
---
A letter to my fellow seniors
Recent graduate Derick Ansah has a few words of encouragement. 
---
Students of the month
---
EOP/MAP Summer 2018 Program
---
Meet the Peer Mentors
 Updates from our Alumni:
Grace Quinton '18 will be studying Recreation Education at CUNY Lehman. 

Bogumila Backiel '14 is graduating with a Master's of Science in Environmental Conservation in December from the University of Massachusetts, Amherst.

Latisha Blackburn '15 will be pursuing an MSW degree from Columbia  University School of Social Work.

Eric Burgos '10 & Sully Gonzalez Burgos '10 welcome Mason as parents this December.

Steven Brown '15 is an Event Coordinator at the NYC Mayor's Office of Special Projects and Community Events.

Anjanette Merric '10 earned a MA degree in Arts Entrepreneurship from Purchase College, SUNY.

Dionis Ortiz '00 is completing an MFA degree from Hunter College.

Antonio Santiago '01  was recently promoted to the level of Dean of the Danbury Campus of Naugatuck Valley Community College.

Kameron Wood '15 Most recently, while living in Los Angeles, has worked on the set of "Untitled Grey's Anatomy Spinoff" pilot wrangling Cast. It is a Shondaland project premiering on ABC soon. Also working on "Unsolved: the murders of Biggie and Tupac" coming to USA network while handled the background performers on the show.

Dr. Janette Yarwood '96 is the Democratic Staff Director of the House Subcommittee on Africa, Human Rights, Global Health and International organizations and has earned Ph.D in Cultural Anthropology from the CUNY Graduate Center.
---
 Tutoring Available:
Tutors are available for EOP/MAP students who wish to work with one. Students can contact their counselor for more information. 
Tutors available for Fall 2018
Intro to Sociology
Intro to Psychology
Microeconomics
Communicating Quantitative Information
Computer Science 1
Biology 1
Development of US 2
Intro to Communication
Child Development
Visual Arts courses by appointment

Other classes available upon request.