Awarded for Student Excellence
Norman R. McConney, Jr. Awardee. Jayce Rayo and SUNY Chancellor Kristina M. Johnson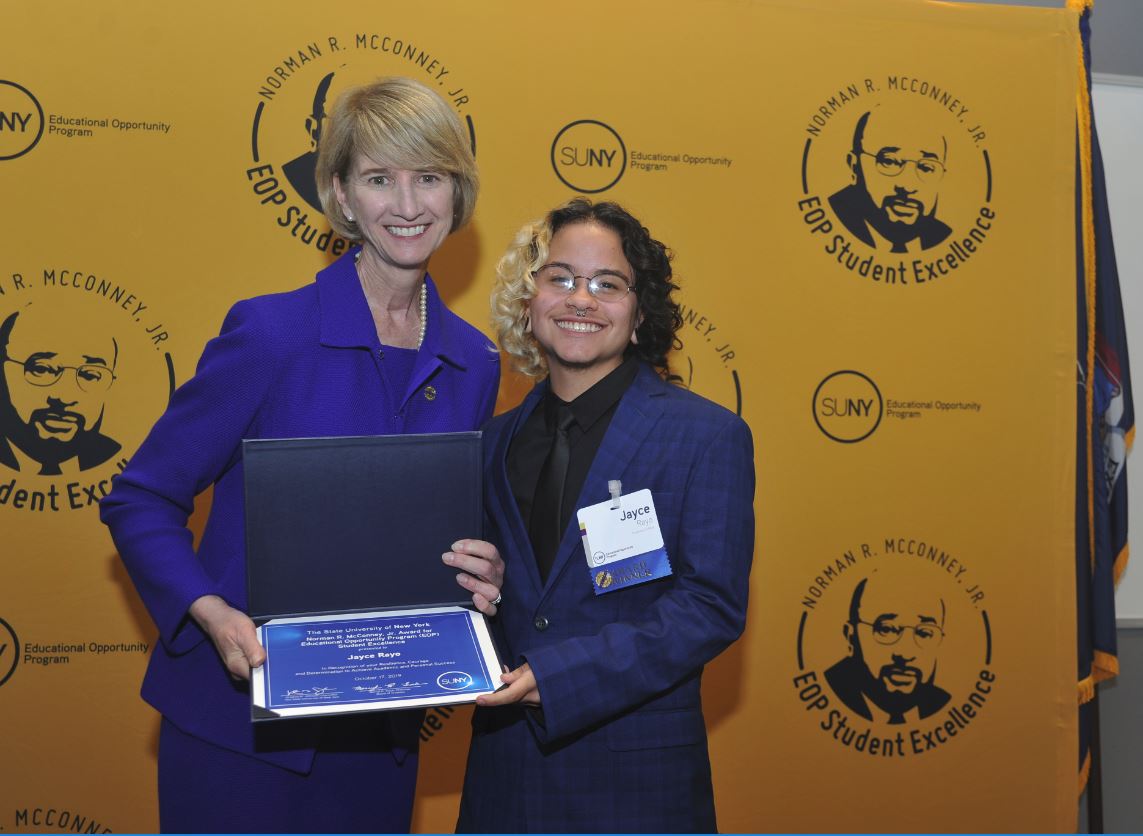 ---
Director's Note
 

 

End of summer/beginning of the semester is an exciting time in the office for sure. We just completed 3 successful summer programs; EOP rising sophomores, MAP rising Freshmen and EOP rising Freshman. We welcomed 58 EOP and 26 MAP eager, new, first year students! We are also bringing in 8 transfers into our EOP family. Be sure to stop into the "Meet the new Students" event this semester (TBA) to meet and welcome them.

We also welcomed a new administrative assistant; Padma Rajendran. Padma also teaches in the Purchase College visual arts conservatory, and we are thrilled to have her join the EOP/MAP team. Come through and introduce yourself!

Lastly, academic support tutors are being hired, student development workshops are being formed, and peer mentor interns are gearing up for a great semester. Of course Dougal will be here weekly as well!

Have an amazing, productive and successful Fall 2019! 
---
EOP / MAP 2019 Summer Program
Tutoring Available:
Tutors are available for EOP/MAP students who wish to work with one. Students can contact their counselor for more information. 
Tutors available for Fall 2019
Math for Contemporary Life
Chemistry I
Microeconomics
Sociology of Education, Intro to Sociology
Pre-Calculus, Calculus I
Digital Filmmaking
French
Spanish
Finance for the Arts
Organic Chemistry
Art History I & II
Sociology Theory
Advanced Psychology of Communications
Sensation & Perception

Other classes available upon request.
---
Students of the Month - December
Meet the Peer Mentors
Announcements:
Ombudsman Mobile Office Hour: Tuesday 2-3pm Wayback, Room 1034

How can the ombudsman help me?

Sometimes students just don't know where to go for certain kinds of help.
The ombudsman assists students in several capacities, including helping students navigate the campus community standards disciplinary system, assisting students who are experiencing difficulties using administrative offices, and helping students negotiate the complicated world of higher education finance.

Ombudsman mobile office hour: Tuesdays 2-3PM Wayback, Room 1034

Paul Nicholson
Director of Special Programs/Ombudsman

paul.nicholson@purchase.edu
(P) 914-251-6520

Keep reading »