Awards Season: Professors Grill and Yavich and Alumni Nominated
Drama Desk, Daytime Emmy, and Tony nominations are in the mix.
Drama Desk Awards
Nominations for the 67th annual Drama Desk Awards were announced this week. Drama Desk winners will be announced on June 6, 2023.
Outstanding Costumes
Associate Professor of Theatre Design/Technology Anita Yavich was nominated for Outstanding Costume Design of a Musical for Only Gold, MCC Theater.
Outstanding Lighting
Associate Professor of Theatre Design/Technology David Grill '86 was nominated for Outstanding Lighting Design of a Musical for his work on Bob Fosse's Dancin'.
Jeff Croiter '93 (Design/Tech) also earned an Outstanding Lighting Design of a Musical nomination for work on Only Gold at the MCC Theater.
Outstanding Puppetry
James Ortiz '10 (Acting) also received a Drama Desk Outstanding Puppetry nomination for the puppet he created for the role of Milky White, the cow in the 2022–23 Broadway revival of Into the Woods. He shares the nomination with Kennedy Kanagawa, the actor who brought Milky White to life on stage.
---
Emmy Awards
Best Lighting Direction
Grill also earned a Daytime Emmy nomination for Best Lighting Direction for his work on The Drew Barrymore Show. As the show's lighting director, Shawn Kaufman '96 (Design/Tech) is on the team that earned the nomination.
This is Grill's 14th Emmy nomination. He's won five Primetime Emmy Awards.
---
Tony Awards
Best Lighting
Lecturer in Theatre Design/Technology Jen Schriever '04 earned a Tony nomination for Best Lighting for a Play for Arthur Miller's Death of a Salesman.
2023 Tony Honors for Excellence in the Theatre
Lisa Dawn Cave '83 (dance) will receive a Tony Award to honor those who have demonstrated extraordinary achievement in theatre but are not eligible in any of the established Tony Award categories.
---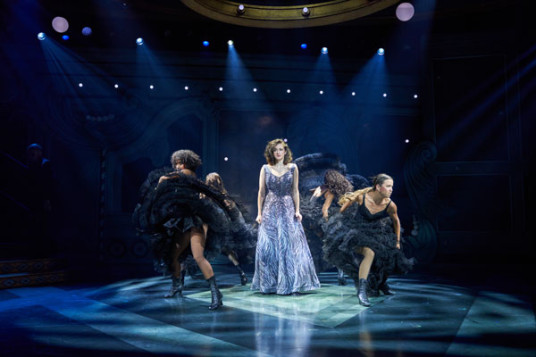 Only Gold at the MCC Theater with costumes designed by Associate Professor Anita Yavich (Jennifer Florentino, Hannah Cruz, and Morgan Marcell. Photo by Daniel J. Vasquez)