Founding Professor Peter Schwab Retires
His indelible impression left on generations of students.
In a semester that's proven nothing short of remarkable, we must pause and honor the truly remarkable careers of two founding professors of Purchase College retiring this year, Professors Emeriti Lee Ehrman and Peter Schwab.

Each has instructed and inspired generations of Purchase students in biology and political science respectively. Countless alumni point to their experiences with these professors as profound and life-changing.
We salute their dedication to research and academia, to Purchase College, and to nearly 50 years of graduating classes they've witnessed cross the stage to receive diplomas.
We're endlessly grateful they chose to spend the bulk of their stellar careers here sharing their vast knowledge and expertise. Purchase will not be the same without them.
Read more about Professor Schwab below and Professor Ehrman here.
---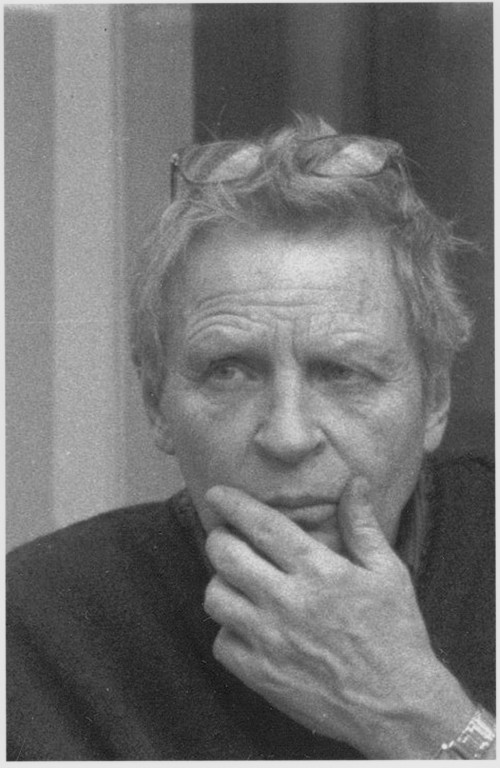 Professor Emeritus Peter Schwab
Professor of Political Science Peter Schwab arrived at Purchase in 1971. Following short teaching stints at Adelphi University and SUNY's Cooperative College Center in Mount Vernon, he found the idea of a new college exciting and decided to join the faculty, one of the first 15 professors hired. Fifty years later, he's retiring with an impressive body of work and generations of students influenced by his teaching.
Schwab earned a BA in History from Fairleigh Dickinson University and an MA/PhD in political science from The New School for Social Research. The New York City native joined the first group in the Peace Corps headed for Liberia. He received a Fulbright Hays Award in 1967 to conduct research in Ghana, Senegal, Kenya, and Ethiopia; he wrote his PhD on the latter's politics. Over the years, he also did research in Gambia, Israel, and Cuba.
His experiences in Africa informed his teaching. "I love teaching the Africa course, because I spent years in Africa, I lived in Liberia for two years. I did research in Gambia and Senegal; I did my PhD in Ethiopian politics. So I was really partial to teaching about African politics."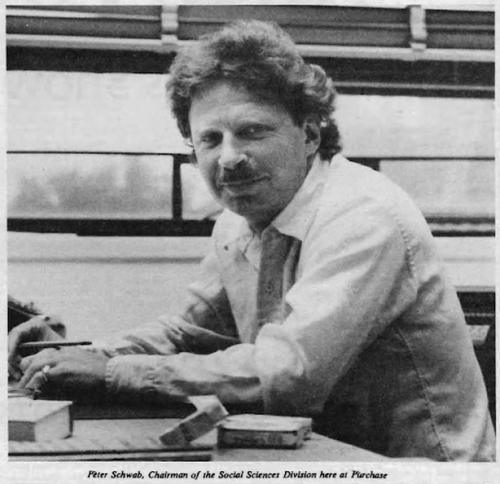 The Early Years
He remembers the early years here fondly. The faculty had offices and the first 100 students all took classes in the same building, the heritage estate that is now the Admissions Office. He shared an office with Professor Emerita Esther Newton, the first anthropologist hired. And Purchase's first president, Abbott Kaplan, would buy the faculty lunch every day. Schwab misses the sense of community among faculty members across disciplines cultivated by the simple act of eating lunch together.
And he remembers the students, the first of whom were transfers. "The students were great. They were smart, many of them had dropped out, it was a college that really attracted people that wanted to start again," he says.
One of those students was the renowned cinematographer Abel Ferrara '74. Schwab was his senior project advisor. "His senior project was the politics of the robbery of a gas station. And who would have ever guessed that he would be one of the major cinematographers today."
Another student on whom Schwab had a profound impact is the 2020 recipient of the President's Award for Distinguished Alumni, Adotei Akwei '84 (political science and economics). He's spent his entire 30-plus year career working on global human rights for organizations such as Care USA and Amnesty International USA. It was a film on the Vietnam War in one of Schwab's classes that seized his attention and defined his career path.
In courses such as US Foreign Policy Since 1945 and the Literature of Political Violence, Schwab has influenced generations of students who praise him for his enthusiasm and teaching. He's earned a reputation as being tough, which stems mainly from his incredibly high standards for taking one's education seriously—reading, taking part in class discussions, and writing well. And he's a stickler for punctuality. His low-tech approach nevertheless imparts knowledge and valuable skills.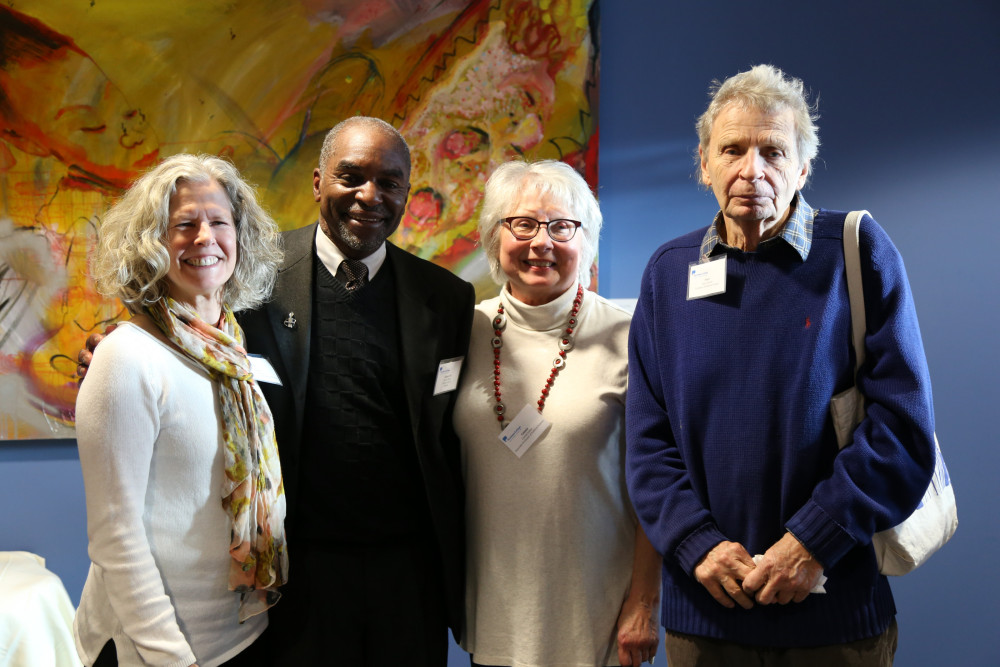 Associate Professor Emerita of Political Science Karen Baird; Adotei Akwei '84; Associate Professor of Political Science Connie Lobur; and Professor Emeritus Peter Schwab
Considerable Contributions
Professor Schwab has collectively written, co-written, or edited 14 books. The book he co-wrote with Adamantia Pollis, Human Rights: Cultural and Ideological Perspectives (1979), was one of three selected by the UN Commission on Human Rights in 1986 for distribution to its information centers as a "primary reference work" on human rights. He's also written dozens of articles and book reviews.
He's held many leadership roles, including serving as president of the Purchase Chapter of United University Professionals union from 1986 to 1990 and also as director of Purchase's study abroad program in Burgos, Spain for several summers in the 2000s. And he's been chair of the political science department several times since arriving here, most recently from 2013 to 2020.
He earned the SUNY Chancellor's Award in Recognition of Exemplary Research and Scholarship in 2005, and the SUNY Chancellor's Award for Excellence in Teaching in 2015.
It's the teaching he finds incredibly rewarding. "I love teaching. I think teaching is one of the most honorable professions there are," he says. "For me, it really gave me a sense of who I was, and what I was capable of. And I've had a wonderful time teaching here. It has given me a life. I've given a lot to this place, but it's given me a life, too. I know that and I understand that."
Chair of the School of Natural and Social Sciences Linda Bastone, commends his teaching. "Peter has had an enviable career as a researcher and writer. It is his teaching, though, and its enormous impact on the lives of so many students, that is his greatest contribution of all," she says. "Alumni, some from many years ago, contact Peter regularly just to check in and let him know just how much his teaching and mentoring mattered to them."
He has advice for anyone considering a career here. "Faculty should come here understanding it is still a special place. And I think a large part of that depends not only on the student body and on the faculty, but on the kind of administrator who will come here and see Purchase not just as their job, and not just as an assignment, but as a really special place. Not just say it verbally, but feel it."
While he won't miss commuting from Manhattan, he'll miss being here. "Purchase gave me a wonderful career. It allowed me to do and teach what I wanted to teach. It gave me grants and allowed me to do research abroad. It allowed me to develop my own intellectual abilities," he says. "I won't deny that I'll miss it."