Founding Professor Lee Ehrman Retires
A pioneering geneticist was the very first professor hired at Purchase.
In a semester that's proven nothing short of remarkable, we must pause and honor the truly remarkable careers of two founding professors of Purchase College retiring this year, Professors Emeriti Lee Ehrman and Peter Schwab.

Each has instructed and inspired generations of Purchase students in biology and political science respectively. Countless alumni point to their experiences with these professors as profound and life-changing.
We salute their dedication to research and academia, to Purchase College, and to nearly 50 years of graduating classes they've witnessed cross the stage to receive diplomas.
We're endlessly grateful they chose to spend the bulk of their stellar careers here sharing their vast knowledge and expertise. Purchase will not be the same without them.
Read more about Professor Ehrman below and Professor Schwab here.
---
Distinguished Professor Emerita Lee Ehrman
"Muddy." That's how Distinguished Professor Lee Ehrman wryly responded to the question, "What was it like on campus when you first started?" Her first office on campus was a trailer where the building housing the Stood and Children's Center currently stands. "For air conditioning, we would climb on the roof and squirt hoses," and for an intercom, "We would step into the hall and scream."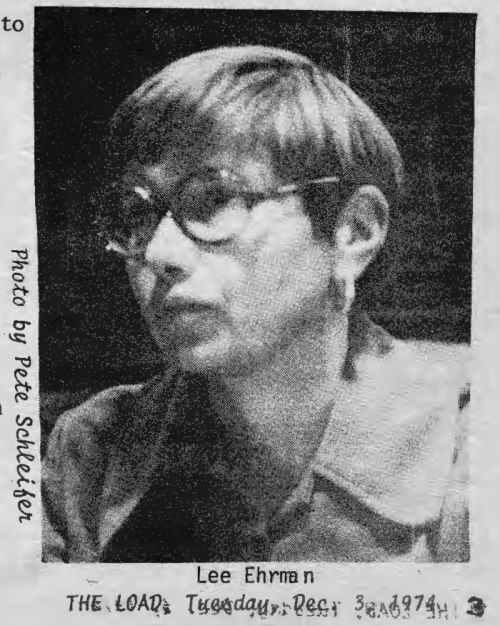 The year was 1970. An eminent geneticist, Ehrman was the very first professor appointed to teach at Purchase College. She came from Rockefeller University, where she was an associate professor who'd been awarded a National Institutes of Health career fellowship. "Purchase got me cheap," she says, "because I brought even my own fringe benefits with me."
What she really brought to Purchase was expertise in genetics and behavior that was pioneering, even more notably as one of few women in the field. And she also brought her Drosophila, the genus of "beautiful little iridescent flies" whose genetics she studies. The basement wine cellar of the main heritage building, now Admissions, was home to her first lab. "It had a controlled temperature of 59 degrees and it was also nice and moist. They were quite happy there." The distant offspring of those flies continue in her lab today. "I have derivative flies that came with me to Purchase."
The flies have a two-week life span and need constant attention to prevent them mating in order for Ehrman to control the crosses. "Of course, I do everything but breastfeed them. I talk to them and if I bump a culture I say 'excuse me.' I'm eccentric, a little crazy. Most scientists are, you know." She's even had two species named after her and named two species herself.
The Firsts
Her career holds many firsts. Not only the first professor at Purchase, she would have been in the first graduating class of Brandeis University, but a family crisis forced her to attend college closer to home. She graduated from Queens College with a BS in 1956 and then earned an MS and a PhD in genetics from Columbia University in 1957 and 1959 respectively. While at Columbia, she studied with and worked in the lab of Theodosius Dobzhansky, the pioneering geneticist and evolutionary biologist. Ehrman was his only female PhD student.
In 1995, Ehrman was the first woman and the first biologist bestowed a distinguished professor rank by SUNY (which first conferred this rank in 1964.) She earned the SUNY Chancellor's Award for Excellence in Teaching in 1976.
One of her first students, Bertha Inocencio Green '74, became her lab technician and has remained with her for the last 49 years. Both of Ehrman's daughters and sons-in-law all attended Purchase. And she's the first professor whose grandson has graduated from Purchase. "He was summa," she adds proudly.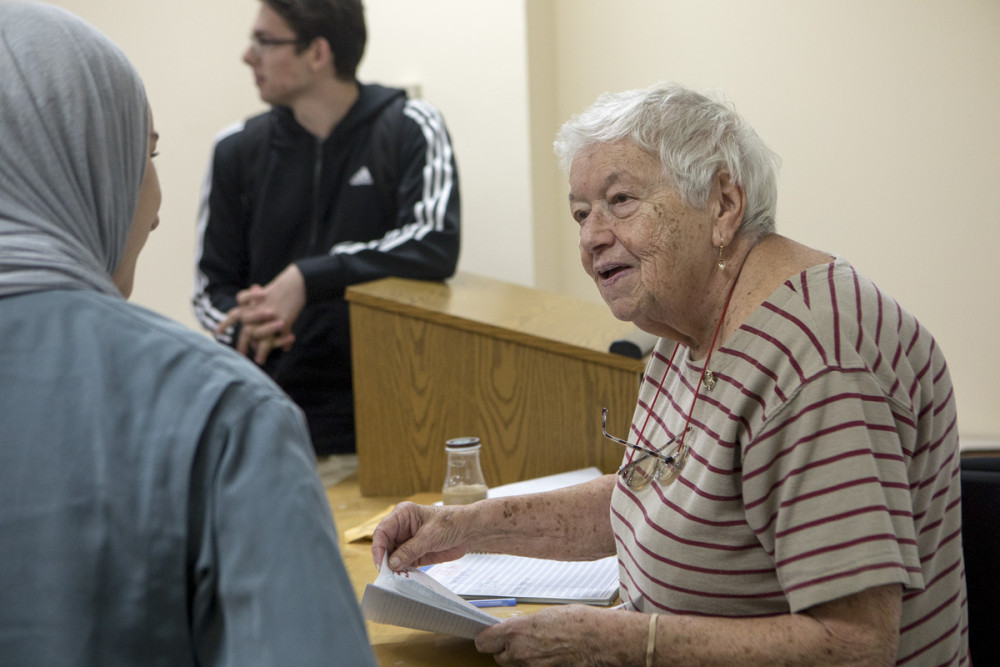 Body of Work
Ehrman is the author of several books, including The Genetics of Behavior (1976), Behavior Genetics and Evolution (1981) (its third edition will be published next year including into three non-English languages); and Genetics, Environment, and Behavior (1972), as well as hundreds of scholarly papers and critical reviews published in important scientific journals. By 2005, she published more than 500 articles. In 2019 she published her magnum opus in Behavior Genetics online and in print with a long appendix held in the journal's editorial office.
She claims the key to success and longevity in the bench sciences is "stamina, physical health, and the capacity to stick with it."
"It is impossible to imagine Purchase without Lee," says Linda Bastone, associate professor of psychology and chair, School of Natural and Social Sciences. "She has been such an integral part of the college since its inception. She has served as a mentor and role model to so many alumni who have gone on to their own highly successful careers in the sciences, medicine, and other areas. We are so grateful to Lee and will miss her terribly."
And what will Ehrman miss most about Purchase? "Everything. I really have no life other than Purchase. I know a little genetics, that's all," she says. "I may complain, but I wouldn't abandon it for the world."