Professor Nancy Bowen Selected for Coveted Award
Anonymous Was A Woman Awards recognize originality and potential.
Associate Professor of Art+Design Nancy Bowen is among the ten distinguished artists selected to receive the annual Anonymous Was A Woman Award for 2017. Bowen is professor in the sculpture program.
Each year, the Award selects artists for their originality and potential as they recognize women over 40 years of age who have made significant contributions in their fields to date, while continuing to create new work.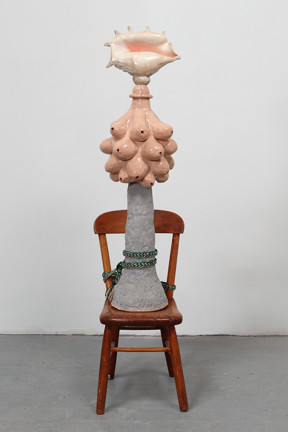 Nancy Bowen, Artemis' Dilemma, 2016, ceramic, shell, chair and mixed media
Winners are chosen from among a competitive pool of applicants recommended by a group of distinguished art historians, curators, writers, and artists who serve as anonymous nominators. 
Recipients of the Anonymous Was A Woman Award receive a "no strings-attached" grant of $25,000 intended to provide them freedom to continue development of their creative vision. The only requirement of the Award is that recipients inform the program how the gift affected their life or work. 
Lauren Shenfield, director of the program, explains, "Anonymous Was A Woman Awards provide important recognition to artists on the spectrum between 'emerging and established.' The grants fuel both personal and artistic development. The financial gift helps artists buy time, space, materials, and equipment, often at early stages of a new project, as well as important emotional support. Perhaps most significant, it helps those with inordinate talent and accomplishment to achieve greater recognition." 
The name of the grant program refers to a line in Virginia Woolf's A Room of One's Own. As the name implies, nominators and those associated with the program are unnamed. After 22 years of grant-making and 220 awards totaling over $5 million, the program's donor remains anonymous. 
Other Purchase College faculty members who have won the award include Donna Dennis, Judith Glantzman, and Sharon Horvath.  A complete list of past winners can be found at Anonymous Was A Woman. 
Anonymous Was A Woman, a program of FJC-A Foundation of Philanthropic Funds, is administered by Philanthropy Advisors, LLC, a comprehensive consulting and management organization for private philanthropy. 
For more information, please visit anonymouswasawoman.org.