Professor Emerita of Art+Design
Donna Dennis is an American sculptor best known for her vernacular architecture–inspired installations. She is one of a small group of groundbreaking women—including Alice Aycock, Jackie Ferrara, and Mary Miss—who pushed sculpture toward the domain of architecture in the early 1970s. "When Donna Dennis created her earnest, plain-spoken Tourist Cabins at the outset of her career, they had the impact of cultural icons" (Deborah Everett, Sculpture magazine).
Dennis was born in Springfield, Ohio, in 1942 and moved to Rye, N.Y., in 1949. She attended Carleton College in Northfield, Minnesota, where she graduated in 1964. Later that same year, she began her education abroad through the College Art Studies Abroad program. Following her time spent in France, Dennis returned to the U.S. and began attending the Art Students League in New York City, where she studied with Stephen Greene until 1966.
In 1973, she had her first one-woman show, Hotels, at a co-op gallery in Soho. The hotels were set up like a tropical village with bird calls and hot lights. The slightly reduced scale of the work, a scale she uses to this day, was derived from her own body: the first hotel was 68" tall and the top of the front door came to her eye level.

In 1975, the collector Holly Solomon asked Donna to join the gallery she was starting, and in 1976 she had her first show there, Subway Stations and Tourist Cabins. In the late 1970s, her work began to become more widely known. She exhibited at the Walker Art Center in 1977, and in 1979 her work was included in both the Whitney Biennial and the Hirshhorn Museum exhibition Directions. In 1975, she was awarded a Creative Artists Public Service grant, the first of many grants and fellowships to follow, including several NEAs and a Guggenheim.
 
In the 1980s, her work began to be seen internationally, including at the Venice Biennale in 1982 and 1984, the Tate Gallery, and Ludwig Forum für Internationale Kunst in Aachen, Germany. Then, in the late 1980s and the 1990s, while continuing to create and exhibit large architecturally-inspired installations, she also completed several permanent public art commissions in New York and Boston. Over the years she has also collaborated with poets (Ted Berrigan, Anne Waldman, Kenward Elmslie) and with performers (Dan Hurlin). 
Her work is included in Sculpture Today (Phaidon Press), a comprehensive overview of contemporary sculpture, and can be found in prominent collections, including the Brooklyn Museum, the Cleveland Art Museum, the Microsoft Collection, the Walker Art Center, Ludwig Forum für Internationale Kunst in Aachen, Germany, the Indianapolis Museum, the San Diego Museum of Art, the Smithsonian American Art Museum, the Neuberger Museum of Art, and the Martin Z. Margulies Collection.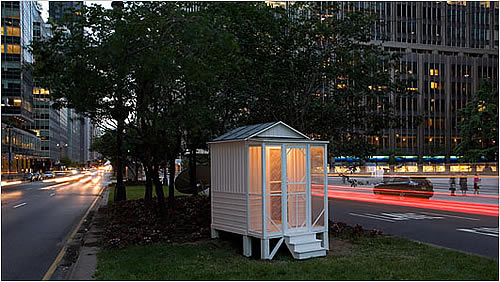 Donna Dennis: Tourist Cabin, Park Avenue, New York City Credit: Peter Mauss/Esto