A Special Week Spent with Alumni
Artists from the Coleman Collective returned to campus to share their life-after-Purchase experiences with students.
Giving Back
Conservatory of Dance students were treated to a week of workshops, master classes, and informal social meetings with a group of dance alumni who are members of the Coleman Collective.
Cain Coleman '09-'11, '15, Matthew Perez '13, and Charisma Glasper '16 formed Coleman Collective—a multidisciplinary group of artists whose mission is to perform, educate, and collaborate—and decided they wanted to educate the students from their alma mater.
"This place gave us a lot. We wanted to give back, in a bigger way, that would fuel the conservatory, but also fuel the alumni," says Coleman.
He remembers the adrenaline rush he would get when alumni would drop by when he was a student. "But to have a week, is something different. We wanted to create a real sense of connection."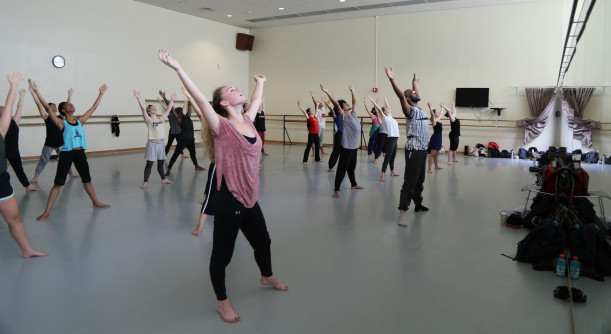 Cain Coleman '09–'11, '15 of Coleman Collective works with students
Conservatory of Dance interim director Nelly van Bommel explains, "We want to help students understand how to keep dance in their lives, whether traditionally or non-traditionally. We want them to get a sense of the reality once they're professionals."
The week included special classes and workshops in Contemporary, Ballet, Hip-Hop, Modern, Improv, and Broadway.
Informal brown bag lunches allowed time for students to mingle with the alumni, and the week ended with a sneak preview of a Coleman Collective work in progress and a goodbye reception.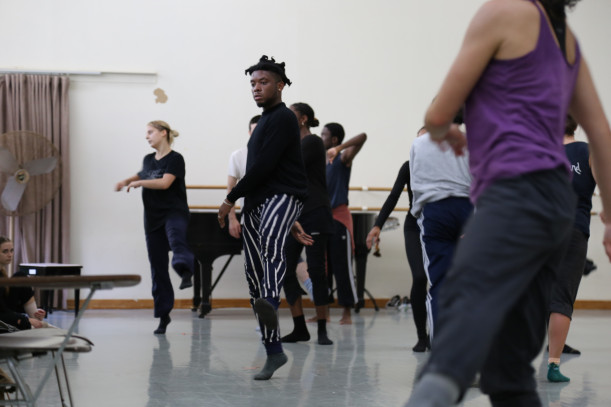 Damani Pompey '12 works with students
Recent Grads, Fresh Memories
Coleman and his collaborators are more recent graduates, and feel they can provide valuable, practical information that students will draw on immediately as they move from school into the world of professional dance.
"We have a lot of information to give—how to find a side job, how to stay creative, how to stay in shape, how to keep that community growing that we all work so hard to build," Coleman says.
"We're at a more relatable distance from school. We're not necessarily the Bessie winners, or the MacArthur Genius Award winners. We're not the people who sell out BAM, but the people who are finding their way to that place. We're the people who know what it feels like to find an apartment in NYC. The experience is still fresh."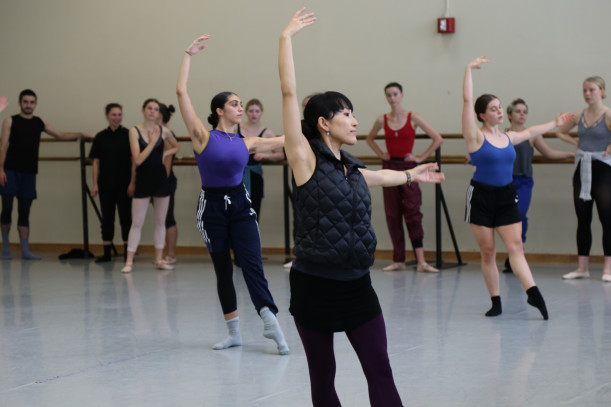 Ayaka Kamei '15 works with students
Many Paths Forward
In addition to their work in the Coleman Collective, the alumni presenting have all forged unique paths in the dance world—another lesson Coleman hopes to impart.
"There's not just this yellow brick road to success in a dance career. There are so many ways you can branch out and be your best self, and also be fulfilling to the community."
Perez teaches at the Duke Ellington School in Washington Heights. Imani Simmons '15 has danced with Rihanna, but is also a creative director and stylist who's currently a brand ambassador for Brandon Blackwood, a line of luxury leather goods. And in addition to his work as a dancer and choreographer, Damani Pompey '12 is also a lighting designer—an interest he developed at Purchase.
Branching Out
Coleman explains, "Coming into a conservatory, everyone is like, I have my leotards, I have my tights, I'm going to be a dancer in a major company, or I'm going to be choreographing for a major company. But because this campus is so wide open—see how I snuck the slogan in there," Coleman says laughing, "there's just so many artists here. You get sucked into everybody's orbit. People start to pull and tug, and you learn and you listen." 
"I've worked with a lot of people from a lot of different places, and there's something very special about the spice and the seasoning that the people from Purchase have," Coleman adds.
Other members of the Cain Collective who visited campus during the alumni week included:
Hannah Button '13 
Davon Chance '12 aka Miz Jade (dance and arts management) 
Ayaka Kamei '15 
Mary Page Nance '11 
Tyler Schnese '14 
Nattie Trogdon '12
Coleman Collective Fall 2017