Associate Professor of Dance
Nelly van Bommel, a French native of Dutch descent, was selected as one of Dance Magazine's "25 to Watch" in January 2010. She is an award-winning choreographer whose work has been featured in France, Taiwan, Canada, and the U.S. in venues, companies and programs including Ballet Austin, Milwaukee Ballet, Kaatsbaan International Dance Center, the Baryshnikov Arts Center (artist in residence), Western Michigan University, Taipei National University of the Arts and Springboard Danse Montreal.
"Nelly van Bommel's choreography magically teeters between tragedy and comedy, classical and folk, serenity and wildness" — Dance Magazine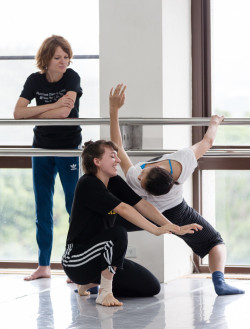 In 2012 and 2013, she was the Director of Choreography at the RDA Summer National Choreography Intensive. Her most recent work Nadir, commissioned by the Juilliard School as part of the 2018 Edition of New Dances, premiered in November, 2018.
Van Bommel received her early dance training at the Académie de Danse Claudie Plaçais-Rocher in Limoges, France and the Centre National de la Danse in Paris, where she worked with choreographers Claude Brumachon, Richard Alston, Susan Buirge, and Christian Trouillas, among others. In 2002, she moved to New York City on a fellowship from the Conseil Régional d'Ile de France. She is a student alumna of Jacob's Pillow Dance Festival.