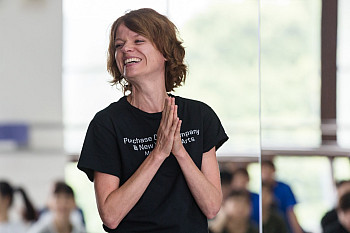 Nelly van Bommel
Dear Prospective Student:
Thank you for your interest in the Conservatory of Dance at Purchase College!  
Housed in the School of the Arts, we are a leading center for world-class professional dance training. Our rigorous program is one of only a handful of conservatories where you can learn what it means to be a dance professional in the 21st century.
Tradition and innovation define us best. We are deeply committed to the classical foundations of dance, while being at the forefront of contemporary dance training.
Our distinguished faculty of renowned professionals and celebrated guest artists are dedicated to preparing our students for the rigor of the professional dance world, and to providing them with the tools to create a sustainable and rewarding life in dance.
As a student, you will be involved in a rigorous daily schedule designed to help you achieve your full potential as a dance artist in a warm and supportive atmosphere. We have exacting standards in our classical ballet and modern dance techniques and offer a wide variety of contemporary dance styles as well as repertory, pointe, and partnering courses. Our exciting electives include Gaga, West African dance, musical theatre, text and movement courses and Collaborative Video for Choreography. Students are exposed to a full range of somatics courses, including yoga, Pilates, Fluid Form, Alexander Technique, and massage. We have a dedicated Pilates Lab and an on-site dance athletic trainer. Our four-year composition and choreography program culminates in senior project performances in our in-house Dance Theater Lab. Our students' physical practice is enriched by academic study in music, dance history, anatomy, and 21st-century topics.
Take the time to discover the great opportunities that our program has to offer, from our Purchase Dance Company performances—featuring cutting-edge new works and re-stagings of 20th-century masterpieces—to our numerous study abroad programs in Europe, Asia, and Australia. 
Come visit us soon so you can experience for yourself the talent, excitement, and energy of people who love to dance as much as you do.

Join us, and become part of the next generation of leading dance artists! 

​We look forward to meeting you.
Nelly van Bommel
Director of Dance