Become a role model and boost the confidence of a current student or fellow Purchase alum.  Share your experiences with someone who is looking for advice about making the right choices in school, getting ahead in their careers, and developing social skills.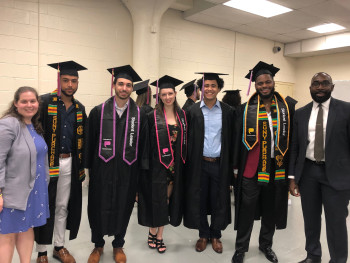 The Office of Alumni Engagement, in partnership with the Career Development Center, has created a new Alumni Mentor Network online platform to connect alumni with current students and other alumni for one-on-one conversations about careers, academic, internships, work, entrepreneurship, life experiences, and more.
The mentor-mentee relationship is about career professionals offering friendly guidance and encouragement to an up-and-coming generation. It's based on mutual respect and openness.  It's a two-way street — mentors often say they learn as much as they teach. 

Mentors make a difference in the lives of young professionals.
You now have a chance to give the next generation of scholars and artists the advice and mentoring you wish you had in college. We need your expertise. And the satisfaction of helping guide young professionals onto the path toward success is one of life's great rewards.
Whether you have an interview coming up, need to give your resume a tune up, or want to learn about a career path, you have a chance to talk to a Purchase alum who's been in your shoes and can help you out.

Questions?
Contact the Office of Alumni Engagement at 914.251.6054 or e-mail: alumni@purchase.edu.