In the company of artists, prominent historians, and critics, and surrounded by world-class museums, galleries, and art spaces, there is no better place to make a career happen.
The MA Program 
On a campus that is itself an expression of 20th and 21st-century art, the Art History MA program, Modern and Contemporary Art, Criticism, and Theory, provides a unique academic experience, which values the making of art, as well as its interpretation and critique in modern and contemporary culture.
The rigorous curriculum explores the critical background of 20th and 21st century art and visual culture. And through MA colloquia, we introduce students to the world of some of the most prominent critics, artists, and historians working today.
Students in the Art History MA program study art history, theory, and criticism with a focus on modern and contemporary art. There are particularly encouraged to immerse themselves in the rich study, work and research opportunities found in New York City and the surrounding region.
Additional Tracks
For those interested in further specialization, the MA in Modern and Contemporary Art, Criticism  and Theory offers two additional tracks within the degree: the dual MA/MFA option and the MA/M+ Curatorial Studies option.
MA/MFA Dual Degree
For students who qualify for acceptance into both programs, the MA program in Art History may be taken in conjunction with the MFA program in Visual Arts offered by the School of Art+Design. The dual MA/MFA degree  allows for close interaction between departments, resulting in a curriculum designed for collaborative study.
Through cross-participatory critiques, discussions, and assignments, the educational experience is broadened, leaving students with not only a deep understanding of art and art practices, but also an invaluable comfort working with makers.
In conjunction with theoretical teachings and seminars, students gain a critical mindset as they pursue professional application in the highest ranks of the field. Prospective graduates students must apply separately for admission to each program.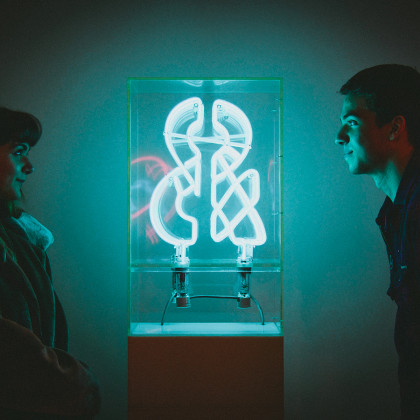 The MA/M+ Track 
The Museum + Curatorial Studies (M+) track within the Art History MA program is a hands-on course of study in the history, theory, and criticism of modern and contemporary art, as well as the histories, functions and futures of its institutions.
Centered on the Neuberger Museum of Art and its rich permanent collection, this program uniquely connects the museum, the department of Art History, and the School of Art+Design to provide practical experience necessary to the contemporary arts professional.
The curriculum is designed to build upon the Art History MA's grounding in modern and contemporary art history, theory, and criticism, critical and visual studies, and critical writing, deepening students' understanding of how arts institutions function, and rethinking the social role of the arts within our current moment.
Working with the Neuberger's permanent collection, students produce a year-long program of academic inquiry and public programming, including research, critical and historical texts, gallery tours, symposia, and invited speakers. Workshops with guest speakers, engagement with New York City area institutions, and museum and gallery internships further prepare students for careers including curating, art writing, museum education, collection management, museum design, interpretation, digital platforms, registration, and academia/PhD programs.
In collaboration with faculty, museum professionals, practicing artists, historians, critics, and fellow graduate students in the MFA track, M+ students will imagine what it means to make a Museum Wide Open.
---
Meet Our Alumni:
She's the digital media coordinator at a contemporary art museum and a freelance writer.

Curator of Contemporary Art at the Delaware Art Museum.

Named Director of Brandeis University's Rose Art Museum
Assistant Professor at University of Maryland, Baltimore County.

Associate professor in art and design and co-chair of the Arts and Communications Department at Westchester Community College.