Greetings! On behalf of the officers of the New York State University Police Department at Purchase College, I welcome you to our website.
The New York State University Police is a full-time law enforcement agency that provides service and protection for the campus and associated facilities 24 hours a day, 7 days a week. I encourage you to peruse our site where you will find safety information, crime statistics, information on how to report crimes and a list of current personnel.
It is our goal to remain a transparent agency that complies with the Federal Student Right-to-Know and Campus Security Act (public law 101-542) that serves the campus community in a professional, caring and compassionate manner.
Sincerely,
Dayton Tucker
Chief of Police
Chief of Police
Dayton Tucker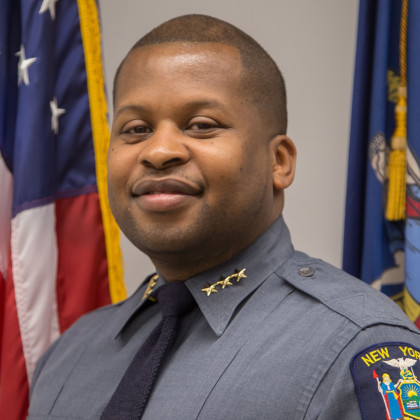 Assistant Chief of Police
Samuel Ramos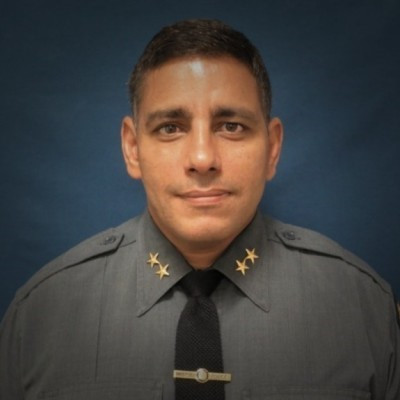 New York State University Police Personnel
C. Markus-Jones, Inspector of Community Policing & Education/FTO
C. Canero, Lieutenant/Fire Arms Instructor
P. Fullshire, Lieutenant/FTO/Bike Patrol
J. McGowan, Lieutenant/FTO/Bike Patrol
K. Racioppo, Lieutenant/FTO/Bike Patrol
J. Thompson, Investigator/Bike Patrol
K. Allen, Police Officer
M. Alto, Police Officer
N. Castellanos, Police Officer
M. Castro, Police Officer
G. Conti, Police Officer/FTO
G. Gonzalez, Police Officer/FTO
R. Houston, Police Officer
M. Miller, Police Officer
L. Sanchez-Alarcon, Police Officer/Bike Patrol
C. Staffieri, Police Officer
F. Vanzillotta, Police Officer
P. Volokh, Police Officer
J. Qiu, Police Officer
M. Andujar, Communications Officer
B. Butler, Communications Officer
E. Calderon, Community Service Officer
C. Marron, Community Service Officer
I. Saint-Vil, Community Service Officer