Associate Professor Emeritus of Political Science
John Gitlitz taught courses on a variety of subjects, including international relations, human rights, and immigration, during his distinguished tenure at Purchase College. He has lived and conducted research in several countries in Latin America and, in 2013, he published a book on unofficial legal structures in rural Peru. He has written articles on human rights in the Americas and has long worked as an activist on these issues.
Gitlitz has also dedicated much of his free time to volunteer commitments. He served as an advisory board member for Human Rights Watch Americas from 1990 to 2000; was the chair of the Task Force on Human Rights and Academic Freedom for the Latin American Studies Association from 1992 to 1994; and is a board member and former co-president of the Hispanic Resource Center in Larchmont, N.Y. In January 2012, he was honored with a Martin Luther King Jr. award for his efforts in Mamaroneck, N.Y., helping to address the clash over immigrant laborers and their right to seek work from street corners.
Longtime Purchase Professor Retires
by Alex Benedict, in the Purchase Phoenix, May 2, 2016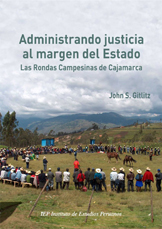 Administrando justicia al margen del Estado: Las Rondas Campesinas en Cajamarca
Editorial Fund of the Instituto de Estudios Peruanos (IEP) and the Universidad Privada Antonio Guillermo Urrelo of Cajamarca
July 2013