"Her ardent admirers include Peter Gabriel, Neil Gaiman, Mad Men creator Matthew Weiner and Lin-Manuel Miranda, who chose her knockout 2006 song "On the Radio" on Desert Island Discs and called her 'a genius'."
---
A critically acclaimed singer-songwriter, Regina Spektor '01 melds classical piano training with narrative pop songs "with eclectic instrumentation and quirky vocal effects." (Apple Music) 
Spektor's "You've Got Time," the main title theme song for the Netflix original series Orange Is the New Black, was nominated in the Best Song Written for Visual Media category at the 56th Annual Grammy Awards in 2013.
Her albums include:
—Home, before and after (2022)
—Remember Us to Life (Sire, 2016)
—What We Saw From the Cheap Seats (Sire, 2012)
—Live in London (Sire, 2010)
—Far (Warner Bros., 2009)
Legendary musician and producer Jeff Lynne, who worked on the album, said of hearing Spektor's music for the first time, "It hits you right in the face how brilliant it is."
—Begin to Hope (Sire, 2006)
Her breakthrough single "Fidelity" pushed Begin to Hope into the Billboard 200's Top 20, and the LP won a spot on Rolling Stone's list of the Top 50 Albums of 2006.
—Soviet Kitsch (2003)
---
Regina Spektor '01 recently re-released her formative album 11:11, which she wrote and recorded while a student in the Studio Composition program.
---
---
More Fun Things
Earned the Distinguished Alumni Award in 2017 given by Purchase College.


Had her Broadway debut in 2019—Spektor went from Purchase to Manhattan playing clubs and songs she never wrote down and never recorded. She revisited those songs during a five-day residency at Broadway's Lunt-Fontanne Theatre.


Appeared on PBS' Poetry in America, where she recited the poem "The New Colossus" by Emma Lazarus from memory in an episode that examines immigration in our current climate through the revered words found inscribed on the Statue of Liberty.


Contributed vocals and piano to violinist Joshua Bell's "Left Hand Song," on his 2009 LP, At Home With Friends, a No. 1 hit on Billboard's Classical Albums chart.


Twice collaborated with Ben Folds—on "You Don't Know Me," from his 2008 album, Way to Normal, and "Dear Theodosia," from 2016's chart-topping The Hamilton Mixtape.


"One Little Soldier" was included on the Bombshell Original Motion Picture Soundtrack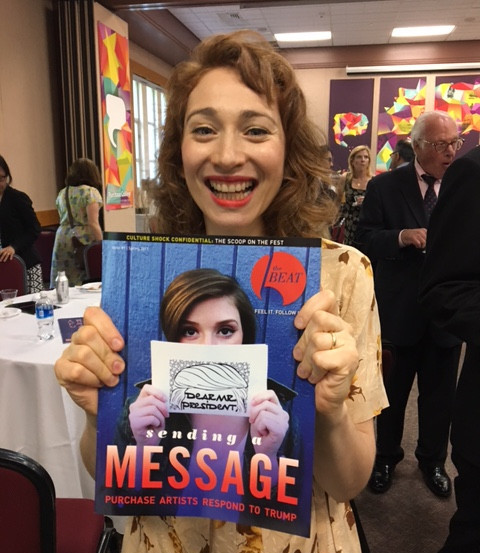 Regina Spektor '01 holds an issue of The Purchase Beat (2017)