Step2,3 is a social media platform tailored towards the needs of artists. Step2,3s mission is to help artists elevate their way of life by galvanizing as many resources as possible on the digital platform, and to make artistic career paths financially more sustainable. Step2,3 hopes to change perceptions about the financial sustainability of artistic career paths by influencing the economic growth of the freelance arts industries.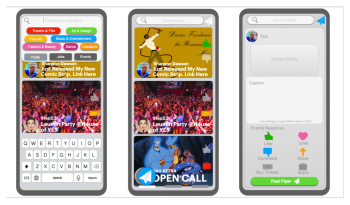 Step2,3's platform provides 4 main functions; Creativity, Communication, Connection, and Commerce, otherwise known as "The 4 C's." Artists and performers can use Step2,3 as a funnel for information and resources by sharing their profiles and using keywords from our database, filing system, and signal beacon. They can also decorate their profiles by uploading media into folders linked to each of their keywords on their portfolio. Artists can communicate publicly and privately through their community feed and maintain list of stored contacts. Members can also use the community thread to post job listings if they are seeking to work with artists, performers, and or creators. Artists are tapped into the external environment and community via their Step2,3 Hub, a map of Step2,3's partners, establishments, and resources in the NYC metro area.
Step2,3 is based in New York City, and primarily serves the NYC metro area, focused on NYC artists, performers, and employers. Once its roots are firmly established it will implement strategies to scale up and branch out geographically.

This enterprise took the top prize of $5,000 of seed money at Purchase's College 2021 Shark Tank Business Plan Competition.