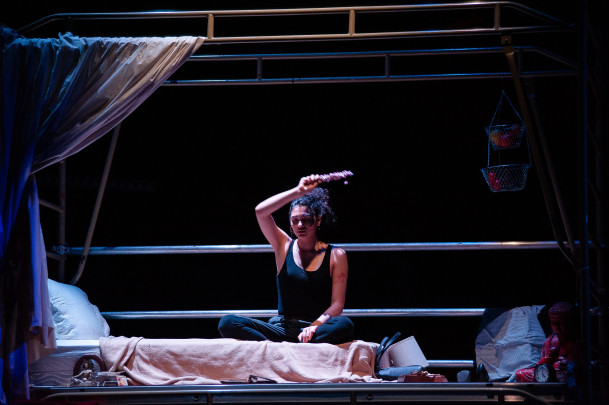 Marisol

Marisol holding a flower over her head as part of a bedtime ritual, in her bedroom.

Playwright: José Rivera
Director: Dennis Hilton-Reid
Choreographers: Cora Rinehart & Georgia Taylor
Scenic Designer: Giana Fanelli
Lighting Designer: Nina Field
Costume Designer: Christina Prussen
Sound Designer: Massimiliano DiMartino
Stage Manger: Davin DeCicco
Technical Director: Mike Donato

Credit: Zoe Markwalter

 
About Me
I am Nina Field, a burgeoning lighting and sound designer from The Bronx, NY. I have always been interested in the performing arts and design, and after exploring other paths I decided to come back to my dream of becoming an artist and pursued a degree in the Theater Design & Technology program. In my process I try to be proactive as well as reactive, seeking to be honest and truthful with myself and my collaborators.
I consider myself a socially conscious artist as I try to keep in mind how I as a theater artist can push for better diversity and representation within the industry. I strive to be intentional and inclusive within both my designs and art in order to create a theater space that is welcoming both on the stage and behind the scenes.
On my website you will find more of my work, and if you wish to reach out to me you can send me an email. Stay safe, keep creating, and thank you for reading!
Awards
Inaugural Recipient of the Pat Mackay Scholarship for Diversity and Design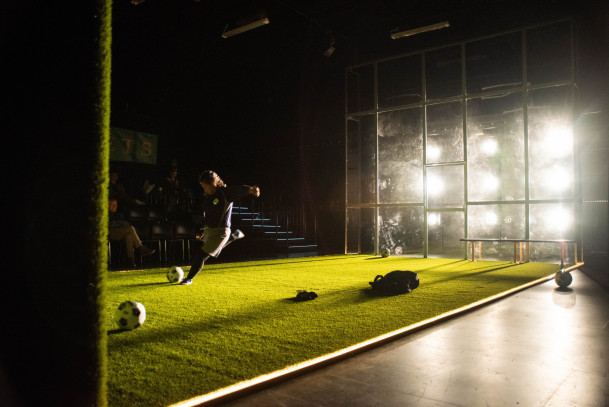 The Wolves

Soccer Player kicking soccer ball at wall as she is illuminated by lights.

Playwright: Sarah DeLappe
Director: Sarah Elizabeth Wansley
Assistant Director / Choreographer: Claudia Swidzinski
Scenic Designer: Franny Sebastiano
Lighting Designer: Steven Zhang
Costume Designer: Kylie Madden
Sound Designer: Nina Field
Stage Manager: Davin DeCicco
Technical Director: Amber Hennes Credit: Zoe Markwalter