Professor of Theatre and Performance
Jordan Schildcrout is Professor of Theatre & Performance at Purchase College and the author of In the Long Run: A Cultural History of Broadway's Hit Plays (Routledge) and Murder Most Queer: The Homicidal Homosexual in the American Theater (Michigan). He has published scholarly articles on a range of subjects, including the Stonewall Riots, queer futurity, "spinster" detectives, and the Muppets. He is also the co-editor of 50 Key Figures in Queer US Theatre, published by Routledge in 2022.
Jordan began his career as a dramaturg and literary manager, working with Manhattan Theatre Club, Denver Center Theatre Company, Adobe Theatre Company, and the Drama Desk-nominated Wash & Fold Theatre Project, which he co-founded. His credits as a dramaturg include productions of Veritas (The Representatives) and And Baby Makes Seven (New Ohio), as well as Purchase College productions of Mud, Apparition, and Eurydice.
Jordan earned his Ph.D. in Theatre from the CUNY Graduate Center and previously taught at Ohio University. He joined the faculty of Purchase College in 2011 and was recognized with the SUNY Chancellor's Award for Excellence in Teaching in 2017. Jordan also served as chair of the BA Program in Theatre & Performance from 2015 to 2022.
Representative Courses
Dramaturgy
LGBTQ+ Drama
Theatre Histories II
Theories of Drama and Performance
Publications
Books:
50 Key Figures in Queer US Theatre, edited by Jimmy A. Noriega and Jordan Schildcrout, Routledge (2022)
In the Long Run: A Cultural History of Broadway's Hit Plays, Routledge (2020) https://www.broadwayinthelongrun.com/
Tubstrip: A Play by Jerry Douglas, edited and foreword by Jordan Schildcrout, Chelsea Station Editions (2019) https://tubstrip.com/
Murder Most Queer: The Homicidal Homosexual in the American Theater, University of Michigan Press (2014) https://www.press.umich.edu/6949764/murder_most_queer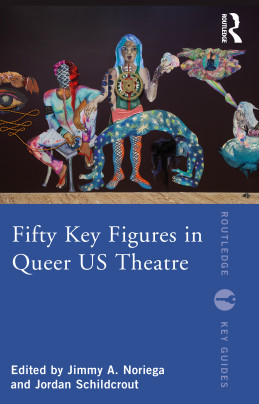 Articles and Chapters:
"Sondheim at the Disco" Studies in Musical Theatre [forthcoming]
"Harvey Fierstein" and "John Glines" 50 Key Figures in Queer US Theatre, Routledge (2022)
"Thinking Women: The Case of the Spinster Detective in Mary Roberts Rinehart's The Bat" Journal of American Culture 42:4 (December 2019)
"Envisioning Queer Liberation: Communal Visibility in Doric Wilson's Street Theater" Modern Drama 61:1 (Spring 2018)
"Legitimate: Jerry Douglas's Tubstrip and the Erotic Theatre of Gay Liberation" Journal of American Drama and Theatre 30:1 (Fall 2017)
"Transgressive Engagements: The Here and Now of Queer Theatre Scholarship" Journal of American Drama and Theatre 28:1 (Winter 2016)
"Refusing the Reproductive Imperative in Peter Nachtrieb's Boom" Journal of American Drama and Theatre 27:1 (Winter 2015)
"Drama and the New Sexualities" Oxford Handbook of American Drama, Oxford UP (2014)
"Queer Justice: The Retrials of Leopold and Loeb on Stage and Screen" Journal of American Culture (June 2011)
"The Closet is a Deathtrap: Bisexuality, Duplicity, and the Dangers of the Closet in the Postmodern Thriller" Theatre Journal (March 2011)
"The Performance of Non-Conformity on The Muppet Show – or, How Kermit Made Me Queer" Journal of Popular Culture (October 2008)