Professor Emeritus of Music
James McElwaine has been a featured performer, writer, arranger, synthesist, orchestrator, conductor, composer, and producer in New York and Los Angeles in a career spanning more than 40 years. He has recorded more than 600 musical compositions and has collaborated with Randy Newman, Cuba Gooding, Susan Davenny Wyner, Steven Spielberg, Al Foster, the Temptations, Max Morath, Mary Wells, the Clancy Brothers, the Burning Man Group, Marvin Gaye, Randy Brecker, Sue Foley, Afrika Bambaataa, Joseph Papp, Charles Ludlam, and Jim Henson, to name a few.
His work in theatre has earned multiple Tony and Obie nominations, and the 1986 Drama Desk Award for Outstanding Orchestrations nomination for the Off Broadway production of Goblin Market (Vineyard Theatre). He orchestrated the Broadway scores for Starmites and The Slow Drag, along with 13 Off Broadway scores. In the last 30 years, he has underscored more than 30 dramatic productions in the New York City area. His composing and conducting credits include Lenny and the Heartbreakers (Joseph Papp Public Theater/Newman Theater) and Charles Ludlam's Obie Award–winning Der Ring Gott Farblonjet (Ridiculous Theatrical Company, Truck and Warehouse Theater). In addition, his music has been heard on the Muppet Babies Talking Books and Fraggle Rock, and in numerous commercial and industrial environments. In the 2000s, he was a contributing author of musical biography for Scribner's Encyclopedia of American Lives (sample biography: Robert Moog).
In 1976, he co-founded Musical Elements, a New York chamber orchestra that specialized in commissioning and performing 20th-century scores. Two years later, he toured Europe as vocalist, keyboardist, and arranger for Vanguard Records' disco-jazz artists, The Players Association. From 1980 to 1982, he performed with the New York Quintet (Keith Underwood, Jim McElwaine, Jonathan Haas, William Moersch, and Dennis Masuzzo), an innovative chamber group modeled on Keiko Abe's Tokyo Quintet. The NY 5 also made some of the earliest beta-recordings for Sony's revolutionary F-1 (DASH) digital tape recorder. Since then, his career has been dedicated to bridging the unfortunate professional disparities between "serious" and "popular" music.
In 1986, he founded the studio composition program in the Conservatory of Music at Purchase College, the first degree program of its kind in public higher education. After mentoring more than 1,000 professional writers at Purchase, he retired as professor emeritus in September 2013. He now teaches composition, production, and digital audio technology at the Aaron Copland School of Music at Queens College and online courses in composition for the School of Professional Studies, City University of New York. He is also currently a member of the CUNY University Faculty Senate executive committee.
Originally from the Gulf Coast, his initial studies were in physics and theology, followed by degrees in music at the University of North Texas and Yale University, where he directed the Yale Marching Band in a season of irreverent halftime hijinks and served as assistant conductor for the Yale Symphony Orchestra tour to France. He now resides in Connecticut with his wife Theresa.
---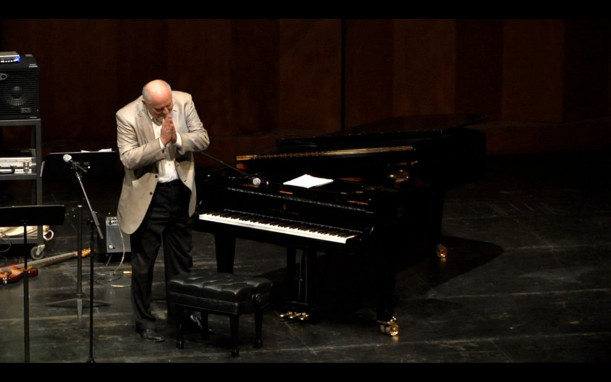 Notes for Japan benefit concert to raise funds for the Japanese earthquake and tsunami relief efforts
May 1, 2012 • Performing Arts Center • Purchase College