Reneissance Francis '18 Hopes to Elevate Others Through Film
Soft-spoken yet self-assured, Reneissance Francis '18 (film) has an unyielding passion to share stories through independent films that give a voice to those without.
From the time she held her first DSLR camera at age 16, she knew she wanted to be a filmmaker. The first film she ever made tackled apartheid in South Africa and starred her best friend. "It was a biopic and she was playing a South African woman who lost her brother in the war," she says. "To this day, I have that camera and I feel like it literally changed my life," she recalls.
Life as a Young Immigrant
Francis came to the US from Trinidad when she was four. She grew up in Yonkers as an undocumented immigrant whose parents struggled but worked relentlessly to provide for the family, in an apartment that lacked heat one winter, in a neighborhood where shootings happened across the street.
Fortunately for the young filmmaker, she connected with people who would grow into supporters and mentors. Her teachers at Saunders Trade and Technical High School encouraged her burgeoning interest and tailored their assignments—when others wrote papers, she made videos. While in high school, she even produced films commissioned by Yonkers Partners in Education, a local nonprofit, which also provided scholarship money to fund her first year of college.
Path to Purchase
Francis missed the application deadline for the film program here, but opted to study through the Merit Access Program (MAP) anyway, determined to transfer internally the following year. She worked tirelessly, connected with faculty, and her resolve paid off—she was indeed accepted as an internal transfer. She entered the film program last fall, made the Dean's List, and received resident documentation along the way.
Finding Her Voice
The film BFA program in the School of Film and New Media Studies, School of Liberal Arts and Sciences, is a rigorous conservatory program with 20–30 students accepted each year. While Francis admits it's been a difficult transition, she's grateful for the support and encouragement the close-knit student network provides and appreciates being surrounded by thinkers and artists.
Pleased with the combination of leeway and rigidity the program provides, she's also grateful for both the guidance and pressure from Charlotte Glynn '02, visiting assistant professor of film. Glynn was hard on Francis, but with good reason. "She told me that, 'I'm very hard on you because you need to work extra hard,'" Francis explains. "And I love how honest she was because I do need to work extra hard. I'm a black woman in the film industry."
Glynn appreciates what Francis brings to the film program. "I teach at Purchase because of students like Reneissance. She questions, pushes back, and is fully committed herself to being an artist and the struggle to express the stories she knows are important and have to be told, her story and experience. She's 19! I know few adult artists who are as fearless, passionate and committed," she says.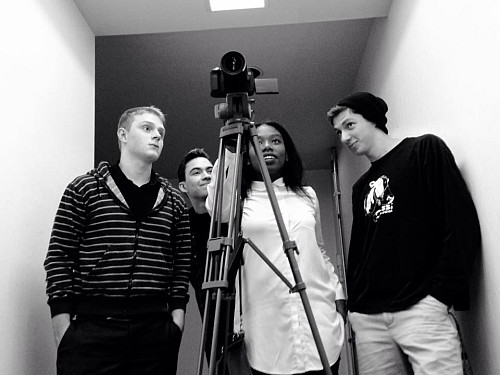 Reneissance Francis '18 and fellow students
Confronting the Issues One Story at a Time
Francis recites demographics about the film and media industry professionals who make decisions about what is seen on screens across the country: 80% white, 80% male, 10% white female, and 10% other.
"We wonder why certain things are being constantly perpetuated over and over again on our television screens, and then into our communities, and then into our people. We need more diverse leaders in every aspect to have a diverse society," she says.
Francis hopes to harness her experiences and through film give voices to those who've been marginalized. "Issues of race, issues of color, issues of gender equality, all these things aren't told correctly on a mainstream platform because stories like these are not deemed as important," she feels.
"I want to be the person that stands up for my rights as a person, for my rights as a female, my rights as a black woman, and especially a black woman in America."
Her own immigrant experience served as the subject of Francis' freshman film. She returned to Trinidad for the first time this year, film camera in hand, intent on making a documentary comparing the fantasy versus the reality of immigrating to the US.
But struck by the changes she found and overcome with nostalgia, she changed her focus. A combination of recent footage and footage found on her family's old VHS tapes, the film morphed into a juxtaposition of childhood memories and the country's current condition. "It turned into something else and that's the beauty of documentary," she says.