Rob Swainston: "Doomscrolling" Prints in Response to Jan 6 and More
The New York Times covers his show with collaborator Zorawar Sidhu at Petzel Gallery in "Facing Violence With Brushes and Ballots."
The New York Times asks the question, "On Jan. 6, many artists shared the belief that they should respond to a national trauma. But how?" and answers with several artists who've documented and memorialized the tragically historic Capitol Building insurrection of January 6, 2021 in myriad ways in the feature "Facing Violence With Brushes and Ballots."
Associate Professor of Printmaking Rob Swainston and his collaborator Zorawar Sidhu have created a series of 18 prints marking several notable dates including the January 6 insurrection, the murder of George Floyd, and Trump holding the Bible upside down after police teargassed peaceful protesters, to name just a few.
Doomscrolling features woodblock prints made with sheets of plywood originally used to cover windows in New York City during the riots following George Floyd's death. 
Doomscrolling is on view at Petzel Gallery January 6–February 12, 2022.
---
Further Reading
A Historical Art of Dissent for the Digital Age
In Doomscrolling, Rob Swainston and Zorawar Sidhu assume the task Walter Benjamin set for the articulation of history — to "seize hold of the past as it flashes up at a moment of danger."


---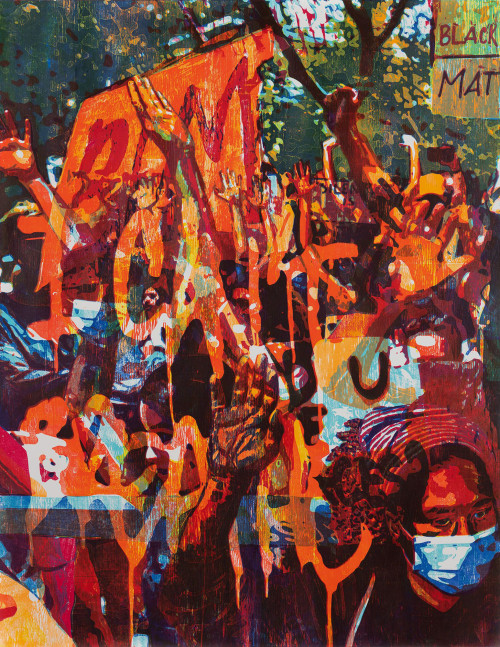 Zorawar Sidhu and Rob Swainston "May 27" 2020-21, Multi-color woodblock print on paper, 57.5 x 45.25 inches (Petzel Gallery)