A Wolf's Passion for Music & Fashion
The artist known as Wolf is finding her voice.
Studio composition alumna Julia Capello '18, aka Julia Wolf, has attracted a following with her music hitting millions of streams and more than 420k monthly listeners on Spotify. She's also venturing into fashion with her brand Girls in Purgatory. 
Her latest single, High Waist Jeans, recently sparked a collaboration with the brand Levi's for a product giveaway that will also benefit women in shelters. 
Wolf has also teamed up with Jackson Foote '15 (studio production) to produce her music.
Below is an excerpt from a feature story on The Beat, written by Gabrielle Bohrman '21.
(The Beat features music, arts, and culture stories in print once per semester, and online via The Purchase Phoenix, Purchase College's digital newspaper.)
---
Finding A Voice Through Music and Fashion
Purchase alumna and indie recording artist Julia Wolf knows exactly what she wants her music to sound like, as her latest single, "High Waist Jeans," demonstrates.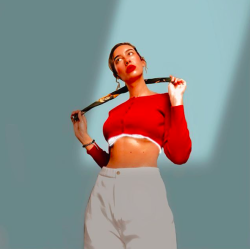 The pulsating beat contrasts with her velvety voice, as she sings about removing toxic people from her life. She delivers lines like, "I am no Orpheus/ I'm not looking back twice," with a spitfire rap cadence. Using high-waisted jeans as a metaphor for confidence, the song oozes female empowerment, a recurring theme in her music.
Her bio reads "Laidback but I don't front," a line from her recent song "Magsafe," that describes her shy, but authentic personality. A quick scroll through her Instagram reveals more ingredients of her brand identity: campaign photos for her recently launched clothing line, Girls in Purgatory; videos of her freestyle sessions, accompanied by her own fist pounds and snaps beat.
Read the entire piece complete with a Q&A with the artist here.
---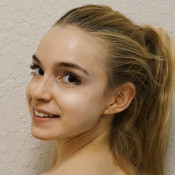 Gabrielle Bohrman '21 is an Arts Management and Journalism major. Prior to attending Purchase College, she danced professionally with the Orlando and Richmond Ballet. She has interned at the Performing Arts Center, The Stood, and the Neuberger Museum of Art on campus and contributes to The Phoenix and The Beat.​