David De Jesus '04 Plays on Grammy-Nominated Album
The alum and professor was a member of Arturo O'Farrill & The Afro Latin Jazz Orchestra.
Congratulations to Assistant Professor of Music David De Jesus for his work on an album that has earned two Grammy award nominations.
De Jesus plays his alto sax with Arturo O'Farrill & The Afro Latin Jazz Orchestra on the album Four Questions, released in April 2020.
The recording earned a nomination in the category of Best Latin Jazz Album. DeJesus was the featured soloist on the song "Baby Jack," which has also been nominated in the category of Best Instrumental Composition, a composer's award.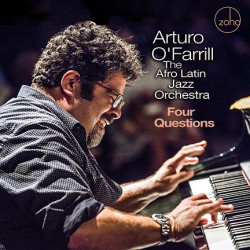 "Four Questions was a very challenging project. There are lots of abstract melodies that required the band to really be creative and focused in order to pull it off," DeJesus says. "It was an honor to work with Dr. Cornel West, he is such an inspirational figure, even more so in person. Four Questions was my last record with Arturo's band, it was a great way to end my 10 year run with the band."
De Jesus is the conductor of the Purchase Latin Jazz Orchestra and the co-conductor of the Purchase Jazz Orchestra.
The 63rd GRAMMY Awards will air Sunday, January 31, 2021 on CBS.