Senior Niki Giokas Finds Inspiration in Quarantine
Leans into her artistic ability while distance learning.
Excerpted from the Spring 2020 Issue of The Beat. (Read the entire story and see additional images here.)
---
THE QUARANTINE DIARIES
A Journey of Self-Entertainment
By Niki Giokas
My new project was born from the need for entertainment, productivity, and comfort in the confines of self-quarantine during the Corona Virus pandemic. Initially, I had been working on a print series dealing with my childhood: Being born in Greece, having my father and half my family still there, while growing up and living in New York City. My plan was to take these prints and make a series of postcards out of them. I had planned to sell them at Purchase's Zine Feast as well as displaying them at the end of the year at my senior show. I've always had an obsession with collecting postcards from wherever I could find them: museum gift shops, if I traveled, at art exhibitions, in stores, wherever, I just take them and hang them on my wall or something.
Suddenly classes were moved online in early March, and we were asked to move off campus shortly after. In all the chaos and instability, I found myself feeling completely detached from my schoolwork, my project, and really anything creative or productive. I honestly just wanted to sit and watch Tik-Tok's, drink wine and eat candy. My senior project advisor and I spoke over the phone, and I was very much in the headspace of thinking I wouldn't finish my project or graduate. He was understanding but recommended that if I was in fact feeling super defeated or sad, why don't I just write that shit down every day, and maybe I'd find a new spark.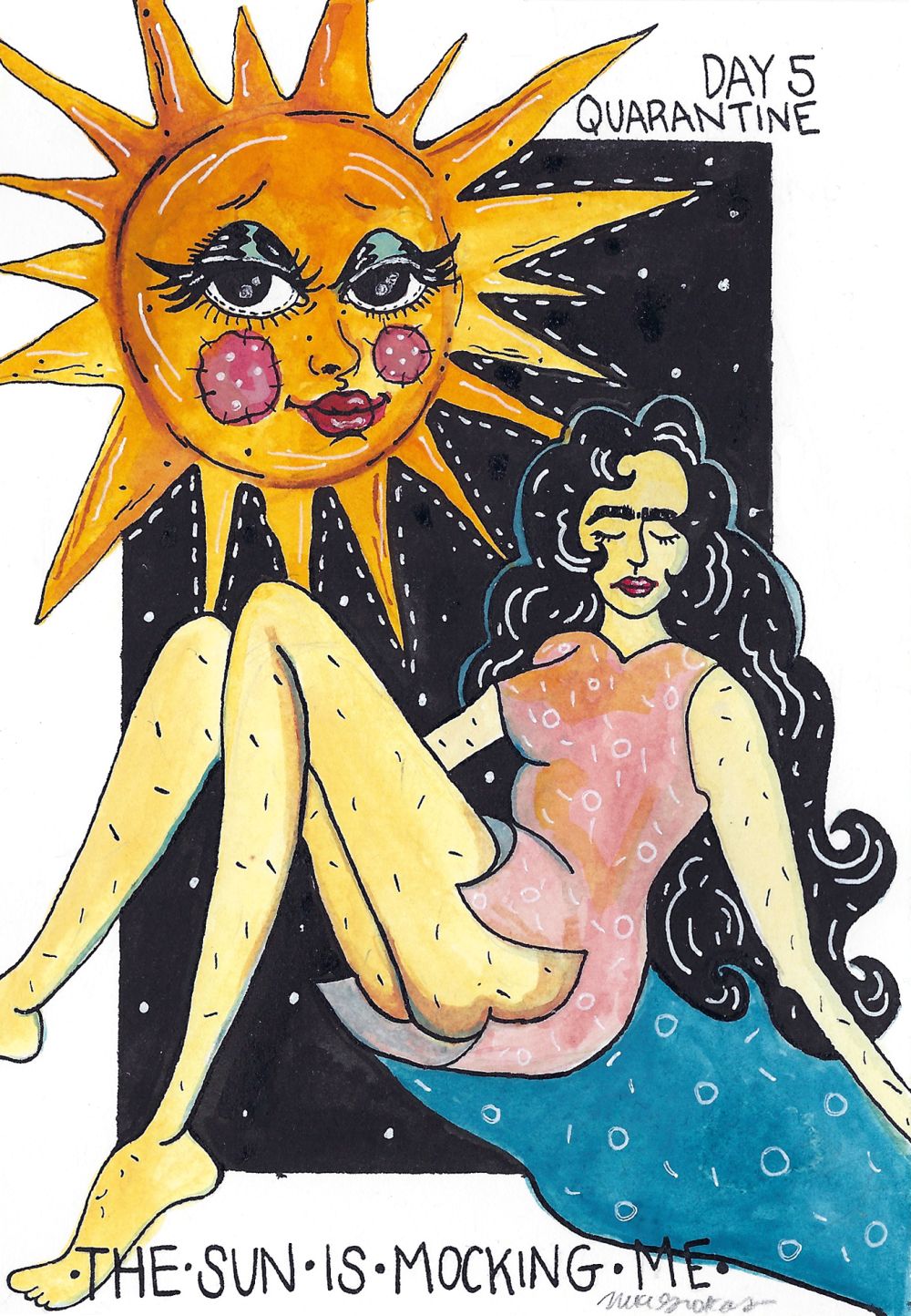 But when I got back home from school, I ignored what he said, got into bed and started watching Netflix. My grandma called me and said she was so bored and that I was lucky I could at least paint or draw to keep myself busy. My mom then walked in and told me how sad she was and how she missed her friends, and that her only hobby was seeing people, and again, that I was so lucky to be able to draw or something to entertain myself. I continued to lay in bed, laptop open, with my bag of Doritos.
Then I decided to redecorate my room. My walls are covered in postcards, stickers, torn magazines, and book pages. As I was ripping things off the wall to replace with other things I had up at school, I found that almost all the postcards on my walls were sent to me with a letter on the back. I know, that's not that cool, that's what postcards are for. But, I was surprised because now that my friends, my family, and I text and use social media, I never send or receive mail anymore.
There were letters from my dad scribbled on the back with his Greek-style alphabet English hybrid handwriting about what he did that day and what the image on the postcard was, (He loves to give me history lessons on Greece). I had letters from my friends from middle school when we realized how rewarding it was to send and receive mail. And going through these handwritten messages, all that had yellowed and faded just a little over the years, was a really sweet moment I didn't expect to have in the sad, lonely, isolation of self-quarantine. And when I was done reading them, I stuck them right back on the wall so I could find them in another few years and have that little moment of human connection by myself again.
This is the moment that I realized that I wanted to send the people that I love some mail, so they too could feel that little moment of human connection while they're home alone. And as it turned out, my grandma and my mom were right; I am lucky that I can draw and paint to keep myself entertained. I decided to hybrid my project advisor's idea of writing down my feelings every day with my love of postcards. I painted a few postcards a day each dealing a small victory such as getting out of bed, cracking open a book, opening a bottle of wine, or something I found to entertain myself–such as shaving my legs for 15 whole minutes!
These postcards serve two major purposes:…continue reading and see more images here.