Aidan Kaye, Film BFA 2020
Aidan Kaye is a New York City-based multifaceted artist, photographer, and experimental filmmaker.
He has worked on several award-winning documentaries, including Alex Gibney's Steve Jobs: The Man in the Machine, and Mr. Dynamite: The Rise Fall of James Brown.
In 2019, Aidan screened his Junior film Read@12:35am at the Filmmaker's Coop's New Year New Work. This film won Best Experimental Film award at the SUNY Wide Film Festival 2019, as well as Best Student Film at the Peekskill Film Festival.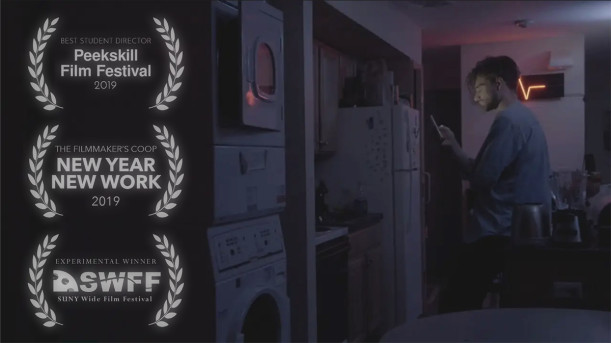 Screenshot Read@12:35am - Kaye's award winning Junior film.
Currently, Aidan is completing his senior thesis film, Giles, in which he explores various themes of youth and masculinity through technology and social media. He's also working on several video art projects, including a three-wall projection and an immersive video installation with several dancers in the Dance Conservatory.
Future Plans
While continuing to freelance as an assistant editor and cinematographer, Kaye hopes to find residencies to support his work after graduation, and produce a feature in the near future.
Advice to Rising Upperclassman
"It is important to develop all the skills that interest you and to jump at every opportunity to engage in creative projects. Focusing on a few strong interests will charge you with unique skills to navigate the world after graduation."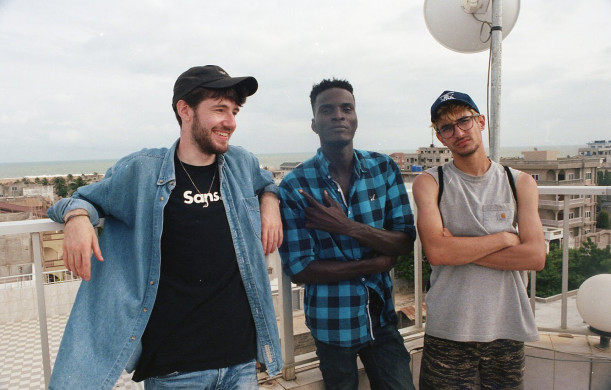 Aidan, Liga and Ryan - Transnational Filmmakers in Cotono, Benin - 2018
To learn more about Aidan Kaye, visit his website: www.aidan-kaye.com
Written by Susan Kouguell, Lecturer in Screenwriting