Award Winning Writer Edward Pomerantz
Adjunct Associate Professor 
Playwriting and Screenwriting Department
Eddie Pomerantz has been teaching Writing For Television at SUNY Purchase for over twenty years.
With an impressive six-decade career in theater, film and television, Pomerantz's work continues to garner international accolades. 
In 2018, he received a SUNY Purchase Faculty Support Award to travel to Oslo, Norway to research his new play But Seriously Folks, A Laugh A Minute With Henrik Ibsen, which he recently completed.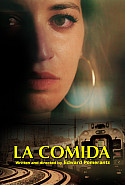 His screenplay Real Love won the Best Screenplay Award at the 2017 Stockholm Independent Film Festival and was chosen as an Official Selection Screenplay by the Rome Prisma Film Awards.
LA COMIDA, his short film, which he wrote and directed, based on a story by Guy DeMaupassant, won the 2016 London Discover Film Festival Award for Best International Short Film, the Critics' Choice Award in the Short Films Category at the L'Age d'Or ​International Arthouse Film Festival, and was chosen as an Official Selection in The Hague Global Cinema Festival.
Pomerantz's plays have been staged in New York, Los Angeles, and in Greece at the Athens Fringe Festival. His two Fulbright Specialist Grants have taken him to Russia and Poland to work with actors, dancers, and writers at State Theatre Academies. He served as a Creative Advisor and Visiting Writer at various international screenwriting labs in England, Germany, Mexico, Spain, Brazil, and Cuba. 
Publications include Dancing on Quicksand, The Collected Plays of Edward Pomerantz, 2nd edition, and Three Original Screenplays, both published by the Educational Publisher, and available on Amazon. 
I Hate When It Gets Dark So Early, written and directed by Pomerantz, starring Broadway stars Rebecca Luker and Howard McGillin, was awarded First Selection at the International Short Film Festival in Belgium, and was an Official Selection at the 2017 New York Short Film Festival.
A Career Trajectory Straight Out of the Movies…and Theater
"When I was sixteen, my playwriting teacher at the High School of Performing Arts submitted The Garden, a one-act play I wrote, to Samuel French and I got fifty bucks for it. The next one, Only A Game, published a year later, made it official. The first play was no fluke. I was the real thing—a playwright. And I got seventy-five bucks.
This was in the early 50's, when the American Theater was an exciting place to find a home in. Until then, I was a movie kid, going to double features at my Washington Heights Loews and RKO every Saturday from the day I was born. But now, a drama student at a pioneering new public high school at Broadway's epicenter on West 46th Street, I was a Saturday matinee kid, getting up at dawn to stand on line for standing room or the last row in the second balcony, where I had my heart broken by Julie Harris in A Member Of The Wedding and Bert Lahr in Waiting For Godot, my view of reality expanded by Jo Mielziner, his set for the bedroom in Cat On A Hot Tin Roof an open space, no pretending to look like a real bedroom, just Maggie the Cat in a white slip down left on a thrust stage, her husband Brick, drinking, on a bed up right, nothing but isolation and distance between them.
I was lucky. It was Jacob Weiser, the playwriting teacher, who saw a gift in me I didn't know I had; he mentored me every day after school through a long process of endless rewriting, scene by scene, line by line. Instead of the next Gene Kelly, I would have to settle for being the next Eugene O'Neill.
After the one-acts, I expanded The Garden into a three-acter, and won First Prize in the Samuel French National Playwriting contest, which led to interest in the play by Kraft Television Theater and an offer to go to Hollywood to be a contract writer for one of the studios, neither of which happened.  Instead, I ended up with an MFA from the Yale Drama School, where I returned six years later to be a playwright-in-residence and write my play/feast Brisburial, produced seven years later by Woodie King, Jr's New Federal Theatre.
Somewhere in there I wrote a novel Into It, published by Dial Press, which 25 years later became Caught, the movie I wrote based on the novel, and nominated for three Independent Spirit Awards; a Sundance Centerpiece Premiere the film stars Edward James Olmos and Maria Conchita Alonso, and was released by Sony Pictures Classics.
In the meantime, I got my first television writing assignment–an After School Special, which led to two Writers Guild Awards and over thirty commissioned screenplays and television scripts.
With the release of Caught, I was invited to participate in a number of international screenwriting labs as a Creative Advisor and Visiting Writer, and to teach a class in Television Writing at SUNY Purchase, one of the first Dramatic Writing Programs to honor and recognize writing for television as a serious art form. I'm happily still teaching that class, along with the Harlem Dramatic Writing Workshop, a program I started with the Writers Guild of America East over 30 years ago, offering free workshops in playwriting, screen and TV writing at Columbia University to find and nurture gifted writers in the Harlem community."
Final Words
 "Teaching, working with writers, actors, and dancers all over the world, writing and directing my plays, finding the money and talent to make my movies, making short films…I'm still that 'movie kid,' and I still want to be Gene Kelly. The beat goes on…"
Advice to aspiring writers and filmmakers
"Throw away the lights, the definitions, and say of what you see in the dark…"
                                                                                                   Wallace Stevens
"When they close the door on you, open another one. When they close that one, open another…and another. When you run out of doors, make one!"
                                                                                                            Joan Rivers
Written by Susan Kouguell, Lecturer in Screenwriting