Purchase Professor and Students Featured in Chancellor's Inauguration
Anthony Domestico, associate professor of literature, offers remarks on behalf of the faculty of SUNY and Conservatory of Music students perform.
On Friday, September 14, Kristina Johnson was formally inaugurated as the 13th chancellor of The State University of New York. The event, held at Morris W. and Fannie B. Haft Theater at the Fashion Institute of Technology, featured Purchase in more than one respect.
Associate Professor of Literature Anthony Domestico offered Greetings from the Faculty of the University representing SUNY faculty system-wide. 
In his remarks, he spoke about the idiosyncratic environment at Purchase that creates a unique teaching and learning experience for all, citing how the "openness to the strange and unconventional allows both students and faculty to think creatively, to work and write and talk across boundaries."
Domestico's remarks begin at 32:34 in the video of the event.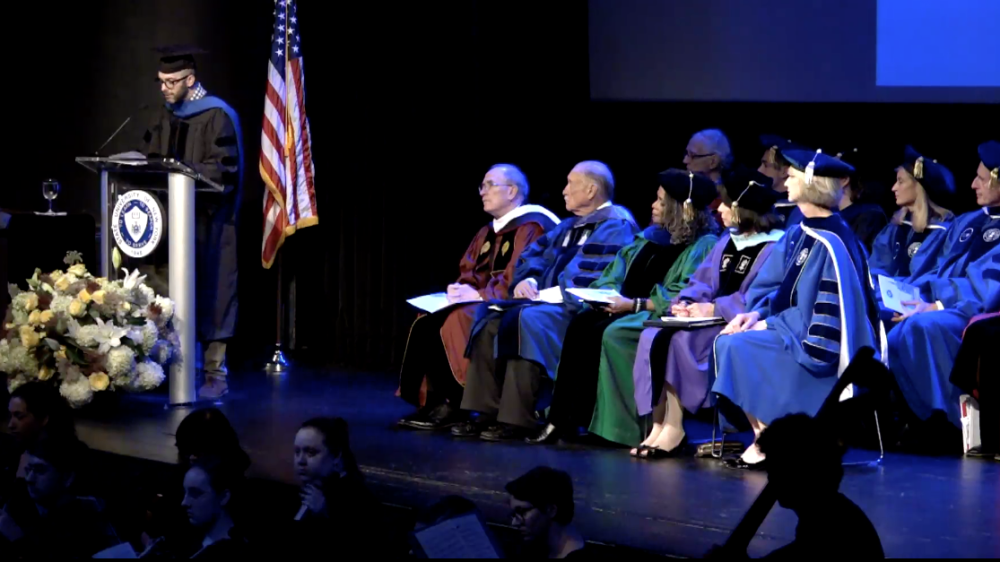 Purchase students from the Conservatory of Music also figured into the event, performing during Friday's inauguration and for the previous night's dinner. 
Members of the Purchase Symphony Orchestra performed Friday under the direction of Mina Kim, conductor.
Violin I
Alex Moy, Concertmaster
Inna Langerman
Symon Bylik
Emily Fredericks
Adrianne Munden-Dixon
Violin II
Evan Ducreay
Michael Mandrin
Jessica Li
Lauren Jenkins
Viola
Michela Christenson
Carolyn Miner
Kate Barmotina
Cello
Nico Mazziotti
Christopher Jung
Bass
The following students performed during dinner Thursday evening:
Lucille (Lucy) Wijnands
Michael (Mikey) Migliore
Kendric McAllister
Jordan Carr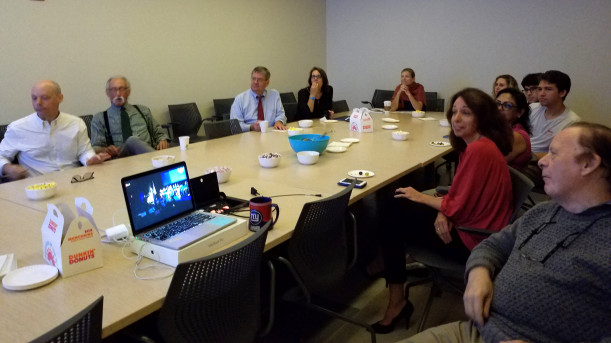 Domestico's colleagues in the School of Humanities gather for a viewing part of the Chancellor's Inauguration.