Jazz Studies Onstage and On-Air in April
April bursts with jazz studies performances in New York City and recordings featured on WBGO Jazz 88.3fm.
New Standards Combo on WBGO
Students playing in jazz studies' New Standards Combo, under the direction of Pete Malinverni, associate professor of practice in music, recorded three songs that listeners of WBGO will hear as part of the station's Jazz Appreciation Month programming.
As the name suggests, the group's repertoire features newer rather than traditional songs. The three selected come from Broadway shows: "Both Sides Now," "Goin' Out of My Head," and "This Masquerade." (See notes at bottom for more information about each.)
WBGO has featured Purchase students for several years now, a testament to the quality and professionalism of our program. "This band is just one of fifteen combos here at Purchase Jazz Studies that evidences the kind of artistic quality, professional comportment, and joy in making music that we prize and seek to instill," says Malinverni.
And this year, rather than traveling to the WBGO studios to record, student Jason Maurer '19 (studio production) recorded, mixed, and mastered the group here on campus. "This is the type of collaboration we've been seeking to develop in the Conservatory of Music," says Malinverni.
The New Standards Combo features:
Lucy Wijnands '20 (voice)
Josh Nelson '18 (saxophone)
Ryan Pieniacha '19 (guitar)
Haeun Joo MM '18 (piano)
Mikey Migliore '18 (bass)
Daniel Criado '18 (drums)
Purchase Jazz Live in NYC
The annual tradition continues when the Purchase Jazz Orchestra and the Purchase Latin Jazz Orchestra perform in renowned Manhattan jazz clubs in April.
Purchase Jazz Orchestra
The Purchase Jazz Orchestra (PJO) will perform at the Blue Note Jazz Club on Monday, April 9, then again on Monday, April 23 at Dizzy's Club Coca-Cola/Jazz at Lincoln Center.   
PJO is a 17-piece big band that performs jazz from every era. From staples like Ellington and Basie, to more modern works by today's leading composers and arrangers like McNeely, Clayton, Abene, and Schneider, the PJO always swings.  Grammy Award-winning jazz bassist Todd Coolman, and legendary trumpeter Jon Faddis direct the group.
Purchase Latin Jazz Orchestra
The Purchase Latin Jazz Orchestra (PJLO) will perform at Birdland Jazz Club on Saturday, April 21.
Under the direction of saxophonist and lecturer David DeJesus, the PLJO is an exciting ensemble that performs music from all over Latin America. Featuring top students from the Conservatory of Music, the PLJO explores numerous genres including Mambo, Cha-Cha, Danzon, Festejo, and Porro. Whether performing classic compositions by the masters or newer works commissioned for the ensemble, seeing and hearing the PLJO is always a memorable occasion.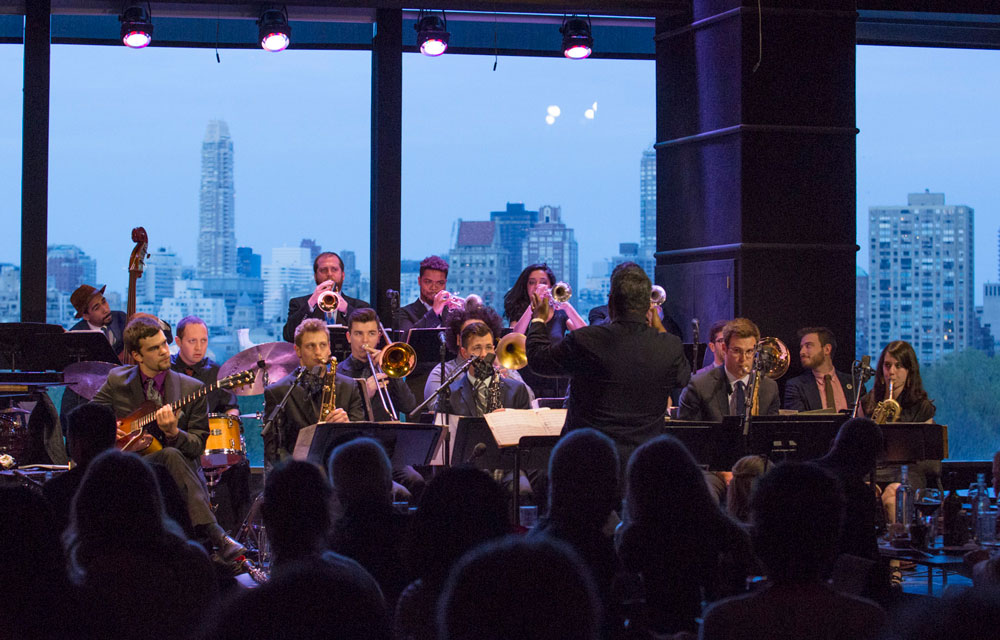 Both groups will perform separately on campus on Thursday, April 26, and Wednesday, April 18, respectively, then together for the Big Band Dance Party at the Performing Arts Center on April 28. 
---
Read Malinverni's notes on the New Standards Combo repertoire…
"Both Sides Now" by Joni Mitchell. Joni's allegorical take on life and love still resonates today and is made poignant by the sensitive reading of this arrangement by the full band.
"Goin' Out of My Head," written by Teddy Randazzo and Bobby Weinstein, was first recorded by Little Anthony and the Imperials in 1964. Here, the beat is updated and new colors are added, resulting in a fresh take. 
"This Masquerade," written by Leon Russell, was a successful 1976 foray onto the Pop charts by Jazz guitar legend George Benson. A hit then, its beauty is revealed anew on this version, arranged, once again, by the full band.