Art+Design Students Study with Renowned Painter
Students from across Art+Design learn tips and techniques from Uruguay's Ignacio Iturria.
Play's the Thing
Valeria Orozco, a senior painting and drawing major, sits on a studio floor in the Visual Arts building attempting to create a balloon from wire.
At a table nearby, students place little creatures made from everyday objects—scissors, a pen, a water bottle with a coffee mug head—into a satisfying composition for a painting.
Helping them work through the process is artist-in-residence Ignacio Iturria, a renowned painter from Uruguay who also has an exhibition on view at the Neuberger Museum of Art through February 2018.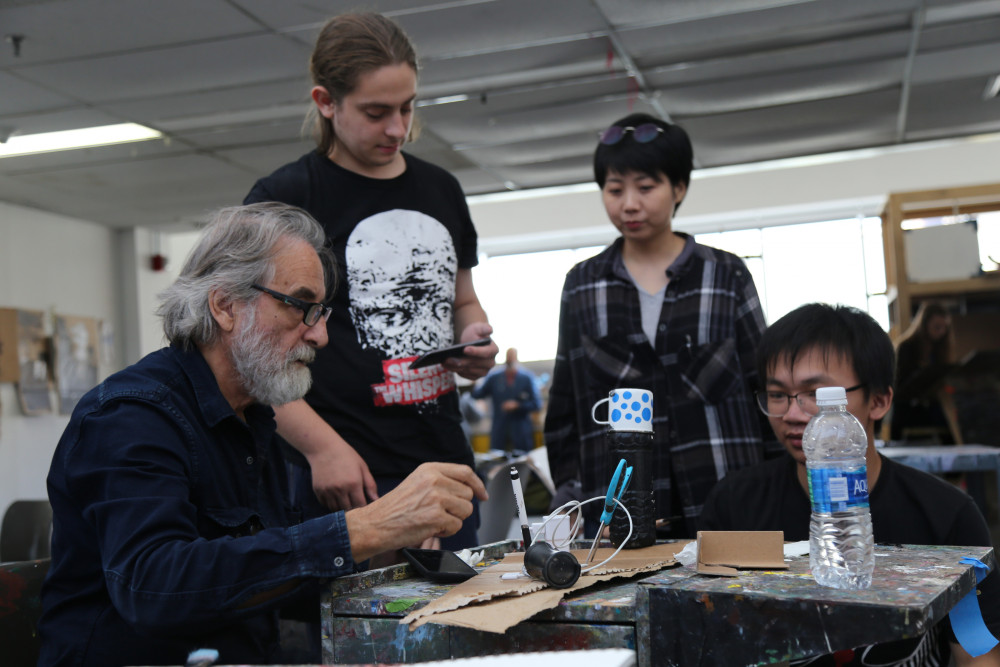 Artist in Residence Ignacio Iturria in the studio with students
Master Painter in Residence
This fall's Masterclass with Ignacio Iturria is a unique opportunity open to all majors in the School of Art+Design. The students enrolled spend class time with the artist, learning techniques and philosophies of art making and gathering insightful feedback on the work they create.
Julian Kreimer, painter, critic, and associate professor of Art+Design, was thrilled to learn the Neuberger was presenting a retrospective this fall, A Studio in the Gallery: The Playful Universe of Ignacio Iturria. Kreimer has long been a fan of Iturria's work, ever since he first encountered it in Uruguay years ago.
The class is not co-taught per se, but instead Iturria informally guides students as they make pieces inspired by the methods and media used by the artist himself.
For his part, Kreimer provides art historical, social, and political context for Iturria's body of work through such means as literature and film. At first glance, he explains, Iturria's work seems "playful and apolitical," but Kreimer assures his oeuvre "exists within a political universe, and you can feel the tension in his figures."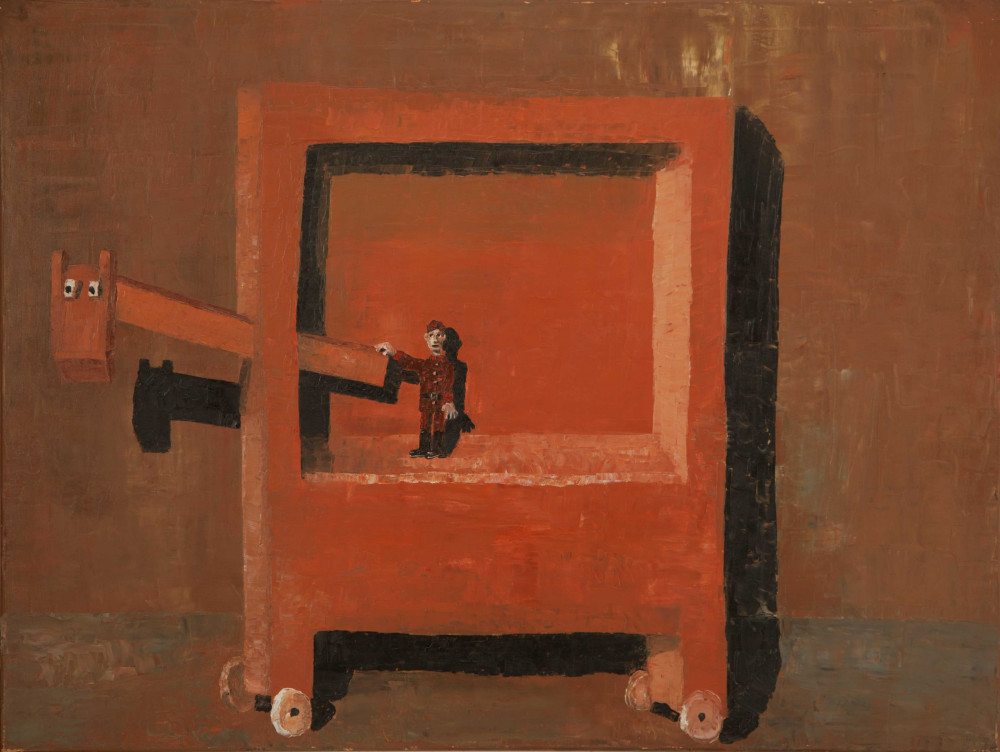 Ignacio Iturria, El Ruso (The Russian), 2001. Oil on canvas, 39 x 52 inches. Courtesy of the Fundación Iturria, Montevideo, Uruguay.
Credit: Alvaro Figueroa
Simply Serious
While there's seriousness to the artist's work in context, Iturria's seemingly simple approach to practicing art offers students important lessons as well.
He spontaneously creates works of art using whatever's available. He adds eyes to random objects to create figures, and then has them interact. The objects then become subjects for paintings, which hang all around the studio.
It's this notion of spontaneity and play that Kreimer hopes his students absorb. "You can make something ambitious out of scraps. He makes it look easy, but it doesn't need to take three hours."
Iturria also offers tips and advice from his fifty plus years experience as a painter.
Senior Khalif Thompson, also a painting and drawing major, loves his enthusiasm and his spirit. And he also appreciates the individual attention. "He's a painter who's worked for such a long time, but he pares everything down. He says, 'I'm an artist and painter, and so are you. Here's how you can use your abilities.' He shows you a new way of working, but there's no pressure. It's an intimate dialogue."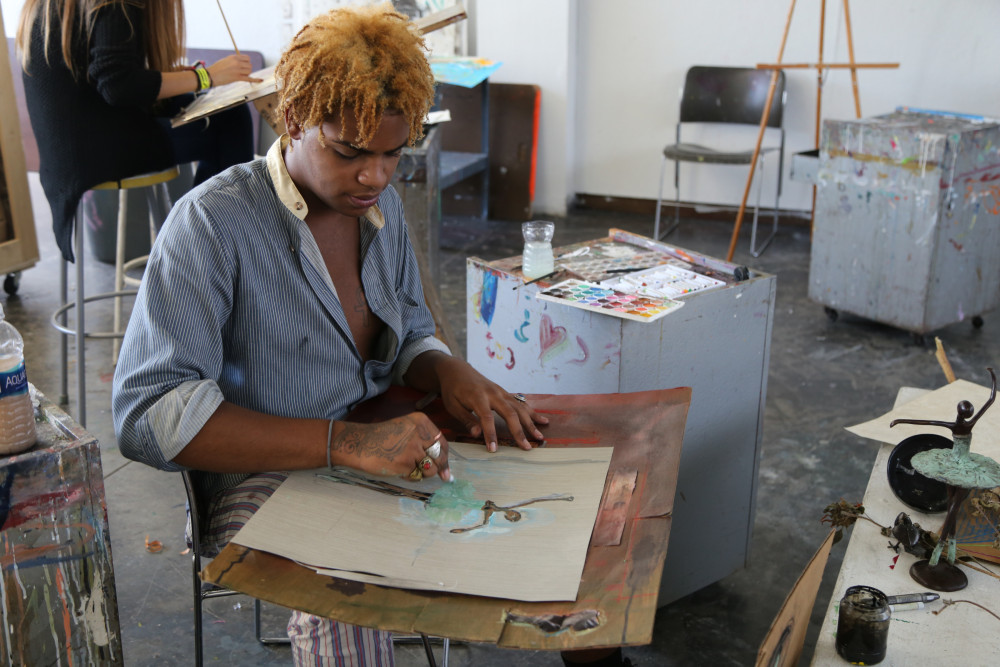 Khalif Thompson '18 paints in Masterclass with Ignacio Iturria
A New Approach
For Orozco, the master class experience moved her work into a new direction. Mainly an abstract landscape painter, she was unsure how to proceed with an assignment inspired by Iturria's use of cardboard. She recalled drawings of tiny houses in her sketchbook, so she made painted cardboard houses, simple ones at first, which then grew more complex. Her studio space now holds a tiny village.
Iturria suggested she make a painting featuring the cardboard houses. A series of small paintings on panels followed. Now the house motif has entered her larger landscape abstractions. "They're coming out of the landscapes. I never would have moved in that direction without this class."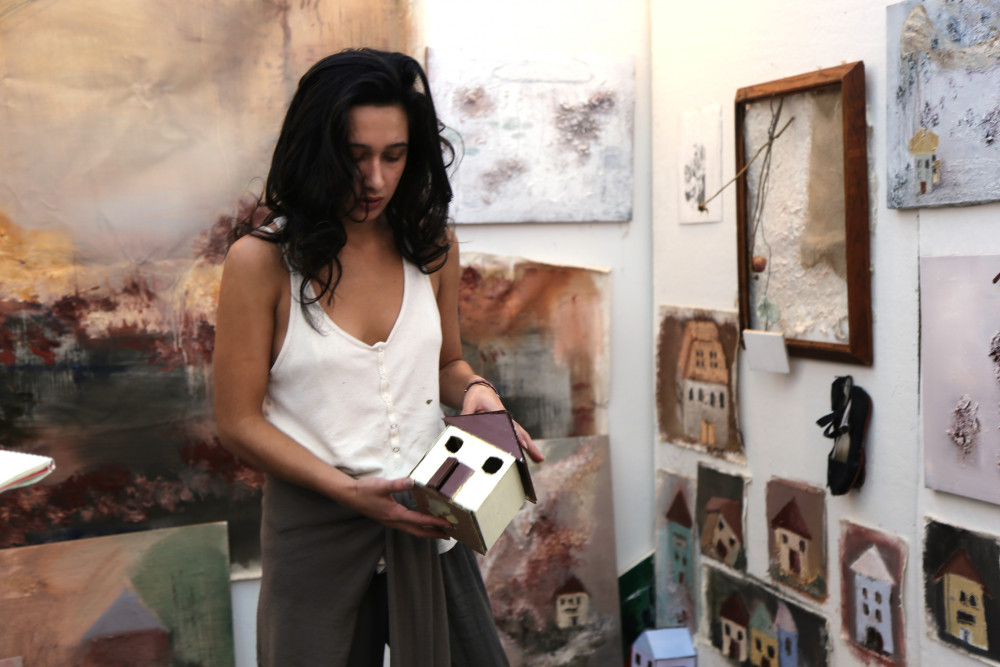 Valeria Orozco '18 holds a painted cardboard house in her painting studio
Visit the Artist
As part of his retrospective, the artist has set up a studio in the Neuberger gallery space. He brings students to assist him in the gallery studio, where they make spontaneous and ephemeral works on a blackboard. During the course of the residency, visitors will be invited to enter the space and meet the artist.
Born in Montevideo, Iturria is one of Uruguay's most accomplished artists, having represented his country at the Venice Biennale in 1995. For more than four decades, the artist has examined society in a profound and poetic manner, creating work that invites us to view the world with amusement and hope. Visit neuberger.org to learn more.
See A Studio in the Gallery: The Playful Universe of Ignacio Iturria on view at the Neuberger Museum of Art through February 25, 2018.
The exhibition is organized by the Neuberger Museum of Art and curated by Patrice Giasson, the Alex Gordon Curator of Art of the Americas, with the curatorial assistance of Marianelly Neumann.
Ignacio Iturria Artist in Residence 2017