Ultimate Frisbee Documentary with Purchase Roots
Now available on Netflix, Flatball: A History of Ultimate began as a senior project.
Dennis Warsen '90 (history) was walking across the Great Lawn in the spring of 1986, a basketball under his arm, when he was invited to play ultimate frisbee—now referred to simply as ultimate—and he was immediately hooked. Playing barefoot, he proved himself  formidable and earned respect and attention from that first foray.
During a time long before Purchase joined the NCAA, athletics were mainly club teams and intramurals. Created at Columbia High School in Maplewood NJ in the late 60s, ultimate has historically been played without referees, relying instead on the "spirit of the game." Even at the highest levels, players resolved disputes among themselves without officials, an aspect which no doubt aligned with the ethos of Purchase. The role of officials remains an ongoing debate.
Warsen, nicknamed Cribber, eventually joined NYNY, the storied ultimate team that won an unprecedented six national and five world championships. Some believe Warsen to be the best player for the best team ever. He was inducted into the USA Ultimate Hall of Fame in 2012.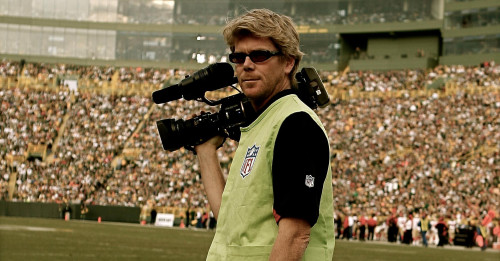 Dennis Warsen '90 as a videographer for the NFL's San Francisco 49ers
For his senior project, Warsen explored the fledgling sport in his thesis, A History of Ultimate Frisbee. Following a long career as director of photography for professional sports including for the San Francisco 49ers Total Access show—for which he won an Emmy in 2009—he decided to make a documentary about the sport he loved to play.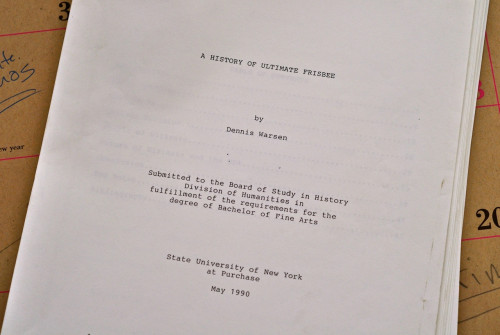 The cover of Dennis Warsen's senior project, A History of Ultimate Frisbee.
Begun in 2012, his documentary Flatball: A History of Ultimate is now available on Netflix. Actor Alec Baldwin narrates the film.
Ultimate remains a club sport played at Purchase to this day.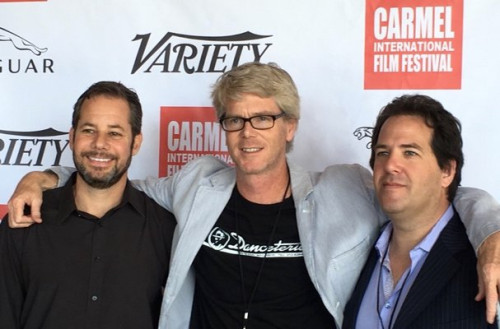 Dennis Warsen '90 (center) with Flatball producers David Blau (l) and Eric Kaye (r)