Sociology Professor Matthew Immergut Co-Writes Book on Meditation
The Mind Illuminated is a text book for both beginners and advanced practitioners which combines Buddhist wisdom with brain science.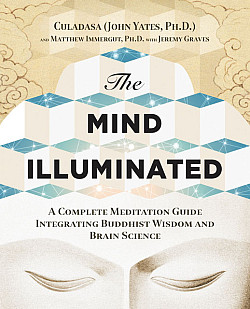 When most people think of sociology, meditation probably isn't the first thing that comes to mind, but Associate Professor of Sociology Matthew Immergut has been a practitioner for many years and lately he has been finding ways of incorporating his practice into the classroom, to benefit his students. 
"I'm both personally and professionally interested in meditation," Professor Immergut says.  "As a sociologist, one of the things I study is the cultural influence of religion and spirituality. Meditation is having a significant influence across various sectors of society. While you can now find meditation in business schools or learn how to be a more mindful golfer, I'm more interested in individuals and groups on the margins, people pushing their meditative discipline to virtuosi levels." 
Recently, Simon & Schuster published The Mind Illuminated: A Complete Meditation Guide Integrating Buddhist Wisdom and Brain Science for Greater Mindfulness, which Professor Immergut co-authored  with his longtime meditation teacher John Yates.
Describing the book as a comprehensive textbook for the serious beginner as well as the advanced meditator, the book combines a stage based approach with models of mind drawn from ancient Buddhist traditions and contemporary scientific disciplines. Professor Immergut notes that the book is been doing very well. "There is a real need for systematic guidance and clear explanations on the workings of the mind for people who want to delve deeper into their practice," he said.
While meditation is a personal interest, Professor Immergut's research intersects with the topic.  He recently spent his sabbatical studying groups and leading Western Buddhist lay leaders to find out more about their lived religious experience, the way their spiritual lives and the everyday world intersect, and the social influence of a practice that's primarily aimed at their inner life.
In the coming semesters, he looks forward to bringing even more contemplation into the classroom. 
"I believe it's critically important for students to practice some form of mental training such as meditation. We ask students to contemplate, to pay attention, and we need to help them develop those skills. They may come into the classroom agitated or focused on personal issues that can overwhelm their capacity to think clearly or do work. So some basic skills can help them regulate their mental-emotional life and facilitate the education process."
His long term goal is to work across disciplines to introduce a minor in contemplative studies. "I think we have a real opportunity to create something at Purchase that reaches across the campus, to the arts and sciences, that could be really beneficial" he said.