Purchase Black Alumni Network (PBAN)
The Purchase Black Alumni Network (PBAN) aims to empower and foster community for Purchase College alumni of the African diaspora.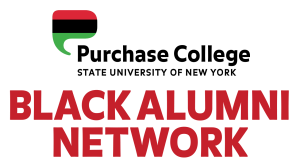 This network holds space for ALL of the Black experience and for ALL Black lives. PBAN connects fellow alumni and current students of Purchase College through programming and initiatives.
Our goals:
Provide networking and professional development opportunities for Black alumni
Provide mentoring opportunities between current students and Black alumni
Provide scholarship to current Purchase College students of the African diaspora
PBAN is an affinity group of the Purchase College Alumni Association. It is led by a committee consisting of PCAA Board members and volunteers. All are welcome.
Membership / More Information

Email alumni@purchase.edu if you have questions about PBAN or for more information about any of the Purchase Alumni Affinity Groups.
Co-Chairs


Major: Graphic Design