Improve your ability to write, record, perform, and promote your own songs of any and all styles!
Grades 9-12

Location: Music Bldg., Room 0001

Let's hear song ideas!

Hone your songwriting skills by taking daily small-group instruction on piano and/or guitar, lyric writing, music theory, and arranging. Learn how to use software programs like Pro Tools and GarageBand. Develop successful means of marketing both you and your music through the Internet and other grassroots-oriented tactics. Participate in hands-on recording sessions and refine your live performance skills under the guidance of seasoned professionals. Receive a DVD of the final performance!
Typical Day
Song discovery and discussion
We begin each day by listening to a great song and discussing various aspects of the style, form, and feel.
Lecture
After the group discussion, we begin the day's lecture, highlighting topics such as melody, lyric-writing, song form, music theory.
Workshop
Students break into groups and expand upon the techniques taught in each lesson. The workshop includes topics such as ear training, song analysis, live performance techniques.
Lunch
Students may either buy lunch on campus or bring a bagged lunch. Students will eat lunch with the Teaching Assistants on campus grounds, outdoors as the weather allows. We recommend bringing a refillable water bottle.
Masterclass
Masterclass is at the core of the Songwriting program. Students break off into semi-private groups and share their original songs. Each songwriter will receive direct feedback, tips and guidance from their instructors and peers in a supportive environment. 
Music Technology/Recording 
Students learn how to use digital music software, mix and arrange their own songs, and record their music.
Music Business 
Topics may include how to form a band, music promotion & distribution, marketing, and basic copyrights law.
Student Performance 
At the end of the two-week session, students will perform for family and friends.
Students are encouraged to bring in their own songs, instruments*, and materials to the workshop, especially to masterclass sessions. * Pianos/Keyboards are provided.
The building is air conditioned; students may want to bring in a sweatshirt or jacket.
Session I: July 1-July 12
Monday–Friday, 9:30 a.m.–3:30 p.m.
$990 for the first registration
$890 for the second registration in the family, Purchase College employees and alumni, and early registrations (received by May 10, 2019)
For a well-rounded summer, combine with Acting on Camera Boot Camp, Musical Theatre Boot Camp, Vocal Intensive, Modern Journalism, Virtual and Augmented Reality Adventures!, Web App Creator and Python Programmer, Visual Arts Institute, Architecture Intensive, and/or Creative Writing Workshop. Discount for enrolling in multiple programs.
Interested in undergraduate programs at Purchase College? Check out Voice & Opera Studies, Studio Composition, Music Composition, Studio Production, and Jazz Studies Programs in the Conservatory of Music.
About the Instructors

Jessica's career as a harpist, songwriter, and singer has taken her from bustling NYC clubs to Hollywood sound stages. Conservatory trained with a composition degree from SUNY Purchase College, she's been featured in Harp Magazine with her group The Callen Sisters and has worked on major film and television productions like Mozart In The Jungle and Confessions of a Shopaholic. As an educator she has 10+ years behind her belt as a college, elementary and private music instructor.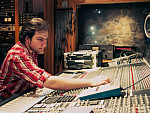 Mikhail Pivovarov is a producer and engineer who has worked with artists like Beach House, Dianna Ross, Moe., John Scofield, Johnny Winter, Seth Glier, Rachael Sage and more. He holds a degree in music production from SUNY Purchase and his work has earned him multiple Grammy award nominations and two wins. Mikhail has appeared as a musical guest on the Late Show With Stephen Colbert and Morning Joe.