Thanks to Jane and Donald Cecil, Purchase College has been able to host a distinguished lecture series focused on the business of the arts. Over the past six years, we have invited noted leaders, scholars, authors, and public figures from New York City and around the globe. 

2018-19 Speaker: Marie-Cécile Zinsou
Past Jandon Speakers
Below are the Jandon speakers we've had the pleasure of learning from:                         
2018       Monica Yunus and Camille Zamora, Sopranos , Co-Founders and Co-Executive Directors, Sing for Hope
2017       Risë Wilson       Inaugural Director of Philanthropy for the Robert Rauschenberg Foundation.
2016       Ruby Lerner      Founding Executive Director and President of Creative Capital.
2015       Ella Baff              Executive and Artistic Director of Jacob's Pillow
2014       Ben Cameron  Program Director for the Arts at the Doris Duke Charitable Foundation in New York City.
2013       Joseph Volpe  Inaugural Speaker – General Manager The Metropolitan Opera 1990-2006
Student Achievement Awards 
Through Jane and Donald Cecil's support, one student per year is selected to receive the Jandon Business of the Arts Student Achievement Award. Below are our former winners:
2019       Sura (Kazuko) Ono
2018       Leah Woods
2017       Cheyenne Myrie Hutchinson
2016       Jonathan Stafford
2015       Steven Brown
2014       Sabrina Cedeno
2013       Julia Chadwick
Purchase College would like to recognize Jane and Donald Cecil, and their representatives, for their generous gift that created this Jandon Business of the Arts Distinguished Lecture Series.
Check out the video clip below featuring our 2018 Jandon Lecturers, Monica Yunus and Camille Zamora.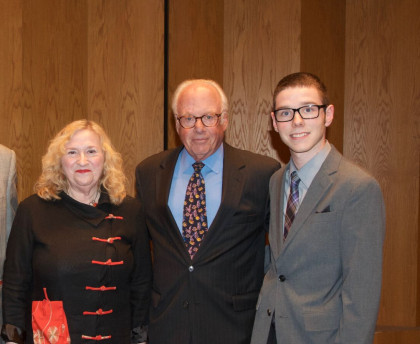 Jandon Lecture 2016, (from left to right) Ruby Lerner, speaker, President Thomas Schwarz, and Jonathan Stafford, student winner.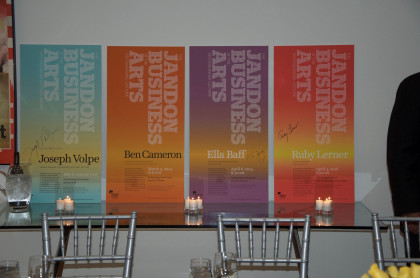 Jandon Posters