—One of the most promising jazz singers of her generation—
(Wall Street Journal)
Improvisation is not just a technique for Grammy Nominated artist Cyrille Aimée '09 (Sur-real M-A), it's a way of life, one that has not only allowed her to share her engaging voice and sparkling creativity with the world but has led her on an unexpected journey.
By opening herself to the whim of the moment, Aimée has ventured from singing on street corners in Europe to dazzling audiences at some of the world's most prestigious jazz festivals; from sneaking out to sing in gypsy encampments in her native France to acting on Broadway; from braving the notoriously tough audiences at New York's Apollo Theatre to being hailed by The Wall Street Journal as "one of the most promising jazz singers of her generation" and called a "rising star in the galaxy of jazz singers" by the New York Times.
Aimée is from the small town of Samois-sur-Seine in France. She was introduced to a wealth of diverse music by her French father and Dominican mother: everything from Michael Jackson to French chanson, Flamenco to country-western. 
Aimée's passion for music and inherent curiosity led her to a discovery that would change her life. As the site of the annual Django Reinhardt Festival, Samois played host to an annual gathering of gypsies, and their fireside sing-alongs would lure the precocious singer out of her bedroom window after her parents had gone to sleep.
Those experiences exposed Aimée not just to the joys of gypsy jazz, which would go on to be an important color in her rich palette of influences, but more importantly to the gypsies' spontaneous, nomadic and music-filled way of life.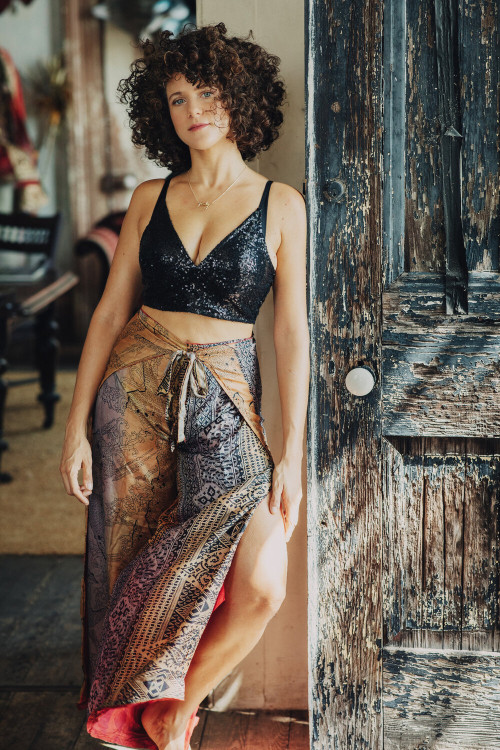 She chose Purchase largely due to its proximity to the jazz hub of Manhattan. She honed her skills through weekly gigs at a Soho restaurant and at Birdland Jazz Club; during that time, she also became a regular at Smalls Jazz Club in Greenwich Village, where pianist/co-owner Spike Wilner MM '07 and saxophonist Joel Frahm took her under their wings.
Aimée was the winner of the Montreux Jazz Festival's International Vocal Competition and the Sarah Vaughan International Jazz Vocal Competition (2012).
She was a finalist in the Thelonious Monk Vocal Competition.
Her releases include Cyrille Aimée Live (2018), Let's Get Lost (2016); her major label debut, It's a Good Day (2014); Chicago Jazz Orchestra with Cyrille Aimée: Burstin' Out! (2013); and Cyrille Aimée and The Surreal Band: Live at Birdland (2013).
---
Excerpts from cyrillemusic.com