Professor Emeritus of Art+Design
Leonard Stokes was born in New York City in 1944. The artist, who lives and works in Pleasantville, N.Y., earned his BA, BFA, and MFA from Yale University. He has exhibited nationally for more than 38 years, and his works are found in numerous corporations and private collections. His work has been reviewed in Art in America, Art News, the New York Times, Arts Magazine, Art & Antiques, and the Journal News. 
Artist Statement
I've always thought of myself as a chef who cooks with leftovers – or with whatever ingredients happen to be in the pantry. I abandoned paper and glue collage-making fifteen years ago in favor of the computer, scanner, and digital camera. The finished pieces come into the world as archival digital inkjet prints. My most recent work may be thought of as faux-tographs, compositions that appear at first glance to be pictures taken of objects arranged on a ground plane before being captured by a lens. Rather, the pictures are composed of objects that have never been in the same place at the same time until I, and the software, worked our will upon them. The work is improvisational – my method is that of a choreographer who composes the dance while simultaneously auditioning dancers for a role within it. Therefore, viewers are invited to supply a narrative, should any come to mind, while encountering the image. Ultimately, my concerns lie with the poetics of color, form, light and space. I try to stay out of the way, and allow form to lead the way to meaning. My hope is that the looking will be enjoyed as much as I enjoyed the cooking.
From Leonard Stokes at Cumberland Gallery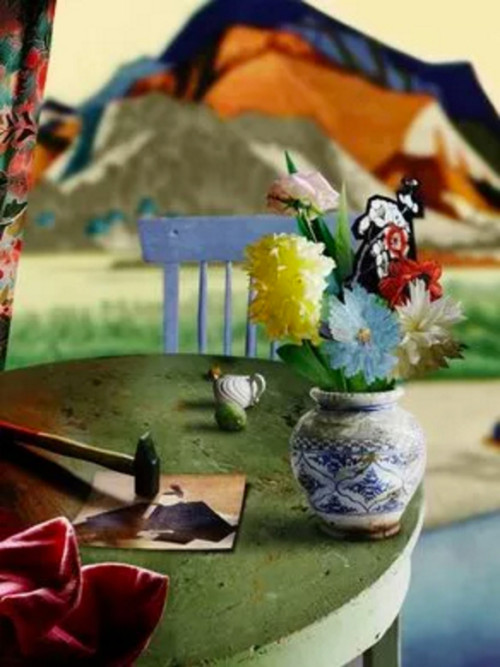 Leonard Stokes, "Green Table," A/P, 2013, archival Epson print, 23-1/2 x 19 inches