In Honor of a Scientist, Mentor, and Nurturer
The Suellen McAvoy Peluso '77 Scholarship in the Natural Sciences was created to honor Professor Emeritus Lee Ehrman's scientific brilliance and nurturing spirit.
---
---
The last time Suellen McAvoy Peluso '77 (Biology) saw her favorite biology professor, Lee Ehrman, Peluso showed up with a bouquet of flowers in need of a vase, and Ehrman—as you might expect from a lifelong scientist—immediately found a couple of glass beakers to put them in.
"And of course she also asked me if I needed something to eat," Peluso said. "Lee Ehrman was both a brilliant scientist and enormously nurturing, and that combination is hard to find."
Ehrman, who retired in 2020, was the first woman and the first biologist to receive a distinguished professor rank by SUNY in 1995. She graduated from Queens College with a BS in 1956 and then earned an MS and a PhD in genetics from Columbia University in 1957 and 1959, respectively. Ehrman was also the very first professor appointed to teach at Purchase College in 1970, and Peluso was one of her students in only the second four-year class of the college in the fall of 1973.
Peluso, who graduated from Purchase with her bachelor's in microbiology and a minor in dance, also retired last year, after a 30-year career in institutional advancement, focused primarily on raising money for translational research and basic sciences. Among other posts, Peluso served as vice president of development for the Geisel School of Medicine at Dartmouth and Dartmouth-Hitchcock Medical Center, and 14 years at UCLA in life sciences and medicine.
Though officially retired, she continues to provide consulting services to higher education and community-based non-profit clients through Broad Cove Consulting, LLC. Grateful for her time at Purchase, Peluso currently serves as a vice chair of the Purchase College Foundation.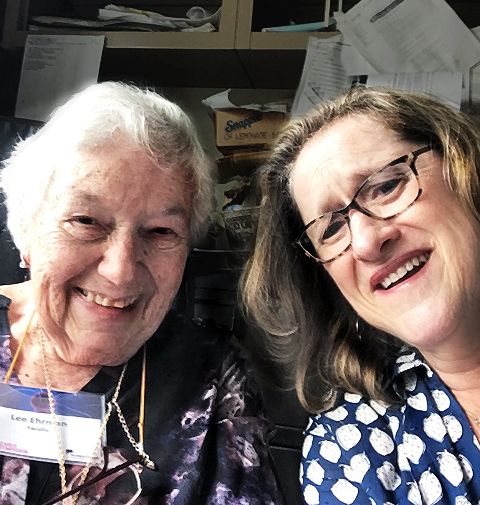 ---
Peluso originally came to Purchase interested in the humanities, particularly literature and dance, but also with a nascent interest in the life sciences.
"I came in and took biology at the college level at the same time I was taking a senior seminar in Lit, so I was not yet that directed," Peluso said. "But as I got further along, I became more interested in microbiology and genetics, which was Lee Ehrman's area of expertise.

"Lee was mentored by Theodosius Dobzhansky, who is considered one of the fathers of genetics," Peluso continued, "and she was emphatic regarding the importance of hands-on research experience in undergraduate education. She was also supportive of my minoring in dance— so everything began to come together for me."
Peluso's senior thesis resulted in publication and co-authorship with Ehrman and colleagues.
Post-graduation, Ehrman helped Peluso secure her first job out of school at the New York Blood Center as a cytogenetics technologist, analyzing chromosomes for Bloom syndrome, and served as a reference for research positions at Memorial Sloan-Kettering. Ehrman also provided a pivotal reference for Peluso's graduate studies in health policy at NYU's Wagner School of Public Administration.
"Lee was there not just as a reference and a connector," Peluso said. "I was also well taken care of. Lee would make sure I had something to eat back then, too. And I remember my mother being sick one time, and Lee telling me how very important it was for me to go home and take care of my little brother."
To honor her lifelong friend and mentor, Peluso has established an endowed scholarship, The Suellen McAvoy Peluso '77 Scholarship in the Natural Sciences, to provide financial support for students currently enrolled and in good standing in the Natural Sciences at Purchase.
"I was at Purchase at a very unique time when there were more faculty in the sciences than there were seniors," Peluso said. "We were provided an extraordinary experience. So it's not just about student support; it's to honor Lee's contributions and recognize the founding faculty for the natural sciences."