Thayer Fellowship Winner: Mara Keen
Musician Mara Keen MM '22 and dancer Naoki Yogi '22 are the winners of the SUNY-wide award.
Each year, SUNY recognizes pending graduates who show great potential in the arts with the Thayer Fellowship. Purchase is proud that two of its own will share this year's fellowship.
---
---
Mara Keen always loved the music she heard in films but never considered it a profession. That changed on a college visit during her junior year of high school. She could envision her future. "I thought this was the perfect way to exist in the musical world, to contribute to it."
The first step in her journey began with building a "foundation to become a successful film composer" by earning a BM in classical composition at George Mason University.
Purchase was next. She chose the Studio Composition graduate program to hone her applied learning skills. "I chose Purchase College to pursue a master's in music because the studio composition program allowed for more hands-on experience in the industry-standard composing software," she says.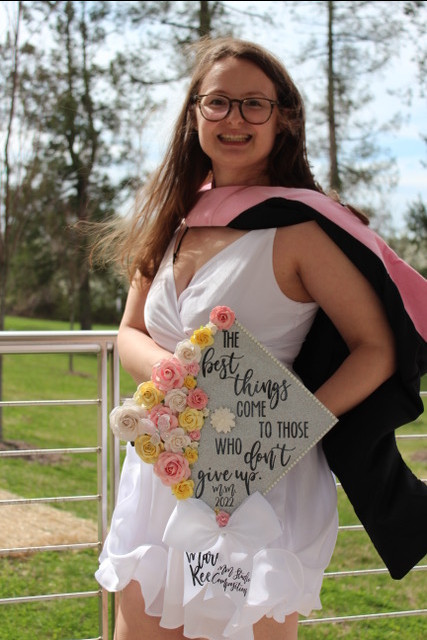 Keen thrived in the environment and points to the program's flexibility and high-caliber faculty as forces behind her growth. "Every single course I took made me into a better musician, she says. "Overall, I love learning from people who have great artistic careers simultaneously happening alongside teaching."
While here, she created the Film Score Round Table Club to facilitate collaboration between students in the music and film programs. "I truly believe you can never get enough experience in communication, and it was wonderful to brainstorm and learn from my fellow peers."
After graduation, she'll be interning for (founded by Emmy®-winning composers JP Rende '03 [music] and Kat Raio Rende '06 [psychology]) to gain real-world experience in the TV/Film music industry.
Her dream is to become a well-respected professional film composer creating scores for blockbuster films and directing her own team of composers and orchestrators. "I want to live a life full of satisfaction in doing what I am most passionate about."
Keen is thrilled and grateful for the Thayer Fellowship. "It is truly an honor to be recognized by successful artists in their respective fields. This award has done so much for me and my future, and I will always be extremely appreciative."
---
The Thayer Fellowship is a monetary award given each year to outstanding candidates for graduation from The State University of New York, funded through endowments established in honor of Jeanne C. Thayer, Trustee of SUNY from 1974–1984.
It serves as a bridge between study at The State University of New York and first-time entry into a professional career in the creative or performing arts: namely music, theatre, dance, film and video, creative writing, and the visual arts. The Thayer Fellowship selection is based on talent, achievement, and potential as a professional artist.