On March 1, 2020, a new bag waste reduction law took effect in New York State, including campus where hundreds of thousands of bags are used each year!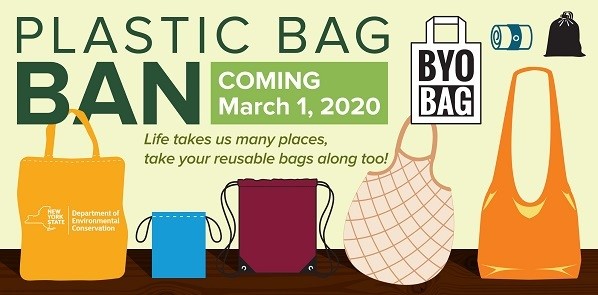 Plastic bag usage affects both our communities and environment. These bags can be found stuck in trees, shrubs and bushes, as litter on our campus, and floating in our waterways. With the several significant recycling and disposal issues, the harm they can do to wildlife, the negative impacts of plastic bags are easily seen.
As a consumer, you can help and #BYOBagNY - Bring Your Own Bag. Keep reusable bags in your car, or clip folding reusable bags onto your backpack so you always have them handy. If you store them near the door, you'll be more likely to remember them on the way out. Remember that every time you use a reusable bag, you are doing your part to prevent litter and waste. 
If you forget to bring a bag with you, many stores will have reusable bags for sale, otherwise an alternative, such as paper, may also be available for purchase. If you have a small purchase, such as a single sandwich, candy or drink, you can help our environment by saying "No thanks" to a single use paper bag and carrying the item or sticking it in your backpack instead!
Be on the lookout for Purchase-branded reusable bags, coming soon!
More information about the legislation can be found on the DEC website. The DEC also created a task force to provide a thorough analysis of the impacts of single-use plastic bags.