From Purchase to Zombie Apocalypse: Colby Hollman '19
The recent acting graduate earned a role on AMC's Fear the Walking Dead.
Each spring, seniors in the acting program in the Conservatory of Theatre Arts travel to New York City and Los Angeles to present themselves in a showcase for agents, managers, casting directors, and more.
For Colby Hollman '19, what came next was a whirlwind of auditions over Skype and through submitted tapes, all in the midst of rehearsals for his final production for the Purchase Repertory Theatre.
But the effort was worth it—he scored the role of Wes on AMC's Fear the Walking Dead. Appearing in two episodes so far this season, the recent graduate is grateful for the opportunity and credits his experience at Purchase for its rigorous preparation.
No Walk in the Park
While he made it seem easy—to graduate in May and appear on a hit series in August—he attests the process was challenging.
Hollman recalls the "extremely talented and hardworking" actors who graduated from the Conservatory who would return to campus and temper expectations as they described just how difficult life as a professional actor really is.
But he imagined his own journey could be different. "I remember freshman year thinking that I want to prove them wrong. I'm big on manifestation and I didn't think that had to be my reality," he says.
The Birmingham, AL native proceeded to put in the work he deemed necessary to succeed.
"Four years of being a work horse failing again and again and breaking down over and over— was physically, mentally, and emotionally exhausting. But when I put my mind to something I don't stop," he says.
Professional Approach
The training he received gave him confidence. "It helped me build a craft that I could rely on. Before Purchase, I really didn't know what I was doing. Now I know how to approach roles. I have a process that I can trust on a professional level."
For Hollman, earning the role is a dream come true and the support he's received from those around him is humbling. "My win is my whole community's win and that's what excites me the most."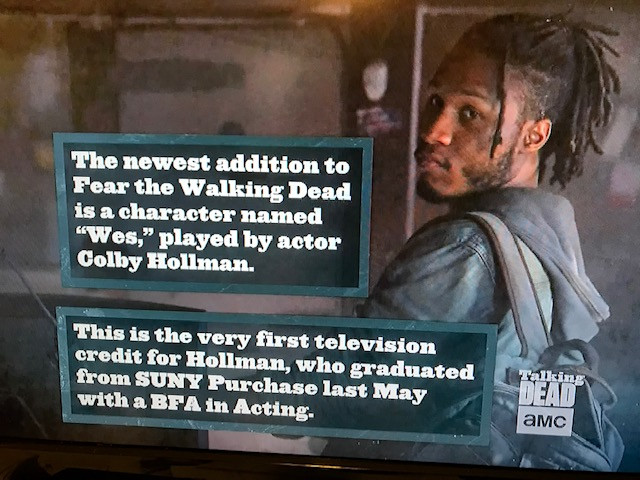 ---
Fear the Walking Dead, renewed recently for a sixth season, is the prequel story to AMC's original zombie mega-hit, The Walking Dead.
Follow his journey on Instagram @colbyhollman