Artisan behind artists who makes sculpture a reality.
Sculptors have ideas. Sometimes they have pretty complex ideas. And many rely on skilled craftspeople to turn those ideas into reality. 
In the centuries old tradition of artists and artisans working in tandem, Andrew Pharmer '90 (visual arts) has sculpted a successful career bringing artists' concepts to life.

Working in various foundries, and now in his own, he's worked with myriad artists on projects large and small, including Ursula von Rydingsvard, Kiki Smith, Do Ho Suh, Kara Walker, Joel Shapiro, and Anthony Goicolea to name just a few.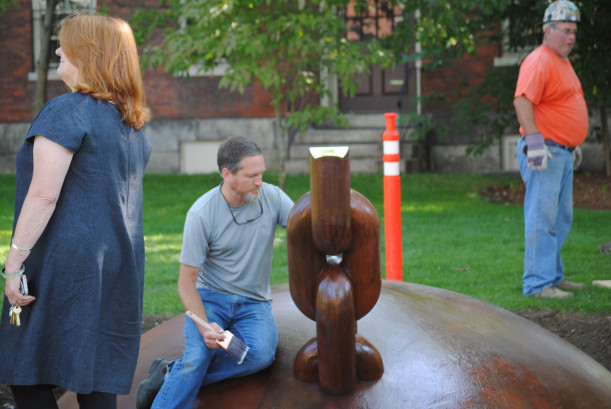 Sculpture by Martin Puryear at Brown University
As co-owner of Workshop Art Fabrication in Kingston, NY, which opened more than three years ago, Pharmer is thrilled to be running his own shop. He spent ten years as general manager of the renowned Polich Tallix foundry, where he managed a staff of 80 and worked six days a week all year round. He and his co-owner, Vincent DiDonato, now employ just 17 people and work four ten-hour days per week. 
"It was a change of lifestyle for us, to be a little less aggressive. And since I've been doing this for awhile, we could hand-pick our clients, too," he says. "And the employees really like it because they get most Fridays off."
Casting Call
The Lake George native transferred to Purchase with interests in both photography and sculpture, but it was his first experience with metal casting in class with Phil Listengart, associate professor emeritus of Art+Design, that would be transformative. "I was also really interested in the way things work mechanically," he explains, "so the foundry is pretty fascinating."
Sensing a professional photography career may not be the right fit for him, he visited the Career Development Center on campus for some direction.
He took a chance and contacted the owner of a small foundry called Tree of Life, who'd previously been looking for interns. He hired Pharmer as a photographer to shoot the work of artist Ernst Neivestny for an exhibition catalogue. He stuck around doing foundry work and then moved onto foundries such as Argos, Polich, his own foundry Grail, then back to Polich Tallix. Over time, he realized he found his place in the art world.
"When I first started, I was waiting for my art career to take off while I worked in a foundry," he says.

But his "wait" turned into an impressive nearly 30-year career working with some of the best-known artists of the 20th and 21st centuries.
He recently worked with Kara Walker on the fabrication and installation of her critically acclaimed work Katastwóf Karavan for the Prospect New Orleans triennial of contemporary art, which featured a calliope—a steam powered organ—larger than a box truck and over two tons in weight. "That was a really nice project and she was awesome to work with," he says.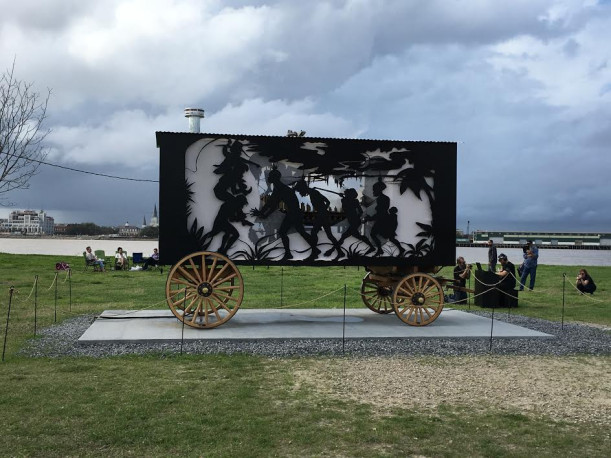 Artist Kara Walker's Katastwóf "Karavan"
Monument to the LGBT Community
The team at WAF is currently working with artist Anthony Goicolea to help fabricate the first official monument commissioned by New York State to honor the LGBT community. Following the Pulse nightclub tragedy in Orlando, FL in 2016, Governor Cuomo formed the LGBT Memorial Commission, which selected the artist's design submission in 2017. The work will be installed the first week of June in Hudson River Park near the waterfront piers.
The piece is a series of bronze boulders with patina to resemble stone, bisected with glass, and arranged in a group. WAF blended old world foundry techniques with cutting edge 3D printing technology to create the work. Goicolea worked with a digital artist to create scans of actual boulders, which the foundry then used to create the 3D printed patterns employed in the bronze casting process.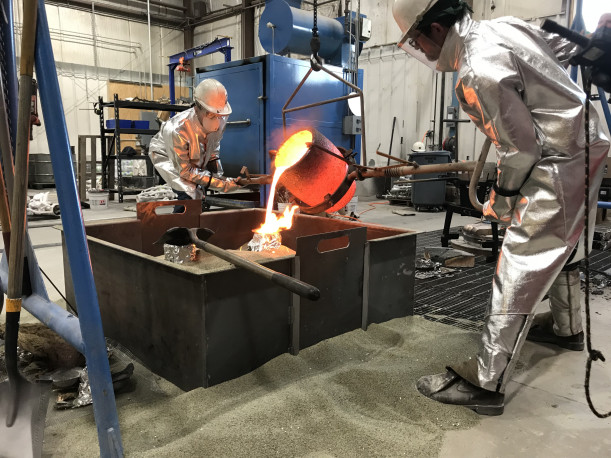 Art and Craftsman
He's proud of the work he's done and with his role in creating art. "I think you have to take your place as a craftsman. I think we're good because we have an appreciation for art. And we have a lot of artists working here, but you have to know the difference," he says.
His advice for BFAs about to graduate comes from experience, "Keep an open mind to what your career in art may become."
Bad timing plagued Pharmer's first foray into foundry ownership—the art market collapse after 9/11 forced him to close Grail after only a year in business.
The second time seems to be the charm.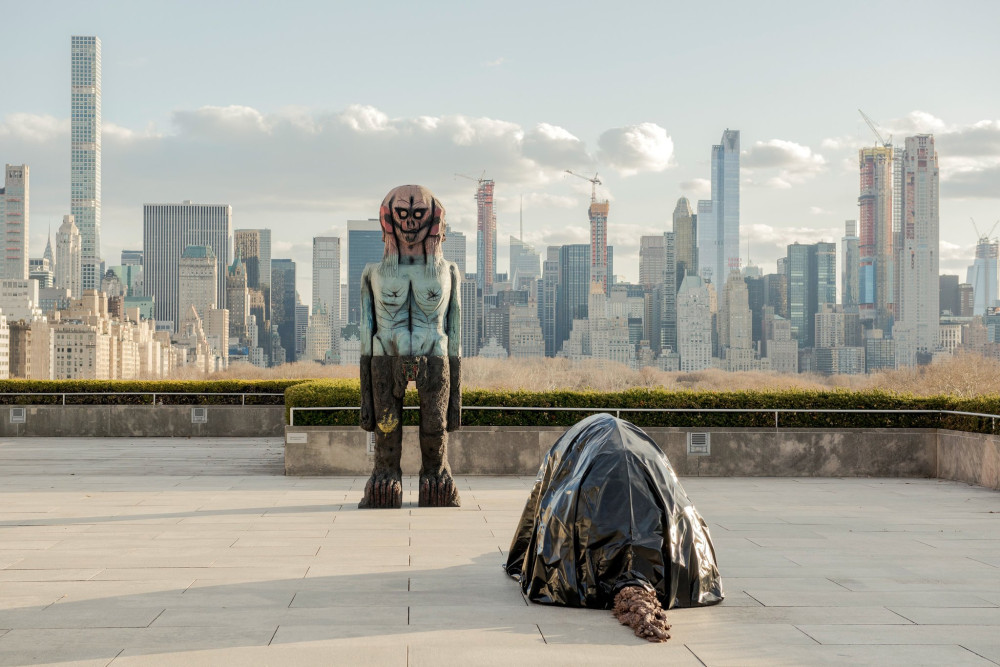 Huma Bhaba "We Come in Peace" on the roof of the Metropolitan Museum of Art on view April 17–October 28, 2018.
Credit: George Etheredge for The New York Times
Andrew Pharmer '90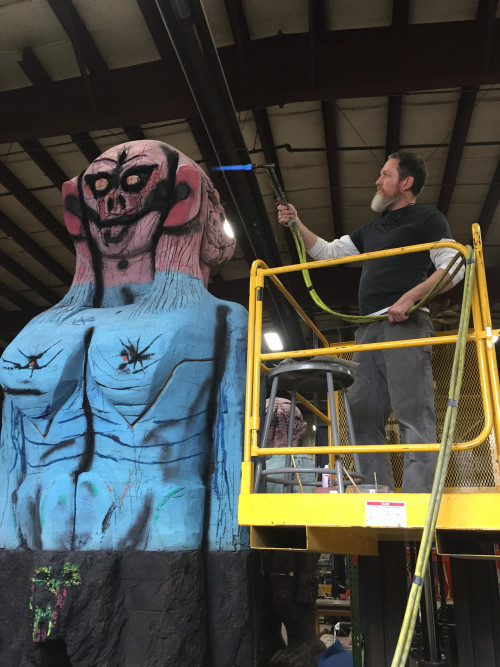 ---
—Kristi McKee