LGBT History Month: October 1-30, 2017
The Library is celebrating LGBT History Month, and the lives and contributions of LGBTQ people, with a display of selected books and films from our collection.
October is LGBT History Month, and the Library is celebrating with a display of materials selected from our collections portraying the lives of gay, lesbian, bisexual, transgender, and other gender non-conforming people. The items on display include novels, non-fiction books, and films depicting LGBTQ characters and themes such as Paris is Burning, The Danish Girl, Homosexuality in Islam, and Angels in America.
You can view the display through the entire month of October, located next to the Library Reference desk.
Celebrate with us! Stop by to browse these and other titles. Please note that you can check out any item that is on display. Learn more about queer lives at www.lgbthistorymonth.com.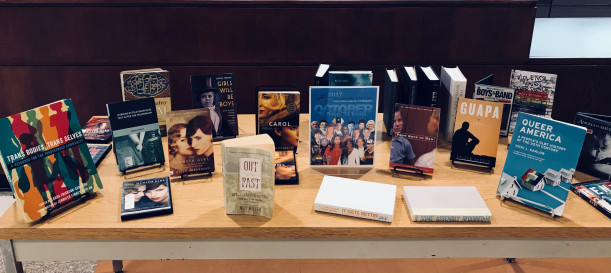 Photo of the LGBT History Month display, which features notable works by, for, and about LGBTQ people, located near the Library Reference desk, October 1-30, 2017.