Jandon Business of the Arts Lecture
The Jandon Business of the Arts Lecture took place in the Humanities Theatre on Monday, April 3, 2017. 
Cheyenne Myrie Hutchinson '17 is this year's Jandon Business of the Arts Award recipient.
The speaker, Risë Wilson, serves as the Director of Philanthropy for the Robert Rauschenberg Foundation and is the founder of The Laundromat Project.
Her presentation included many examples of how artists are using creative ways to shape opinion and impact decision making in the world.  A lively question and answer session followed.  
Following the event, a reception provided an opportunity to continue the discussion.
This event was made possible by the generosity of the Jandon Foundation.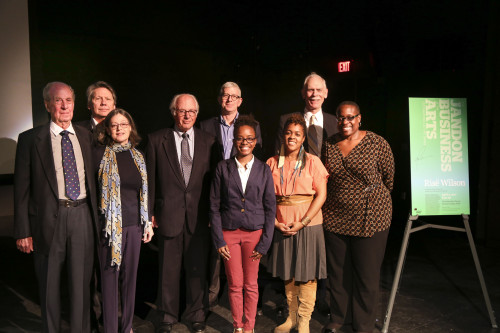 Don Cecil, Creighton Michael, Leslie Cecil, President Thomas Schwarz, Alec Cecil, Cheyenne Myrie Hutchinson '17, Risë Wilson, Professor Jim Undercofler, Professor Dawn Gibson-Brehon

Photo: Paige DeMaio