Maritime Aquarium internship. by Jake Lupie
May 15, 2023
Open gallery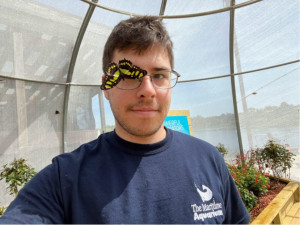 During the summer of 2022 I was given the opportunity to work as a butterfly entomologist at The Maritime Aquarium. My role was to maintain the butterfly exhibit & butterfly emergence room. Inside the exhibit there were over 75 plants and over 400 butterflies that had to be cared for.
Tasks, like gardening, butterfly egg removal and making butterfly food were just a few of the things that had to be done within the exhibit. Guests were allowed inside the exhibit from 10am - 6pm so it needed to constantly be ready for visitors. In the emergence room, we would receive shipments of 200 chrysalis a week. Then, the chrysalis were hung and displayed in a window for the public to observe butterflies at different stages in their lives. Once the butterflies emerged, I would transfer them over to the exhibit.
Working directly with the insects was phenomenal, but I also had some amazing opportunities. The Maritime Aquarium is an AZA facility (Association of Zoos & Aquariums). This allowed me to learn what it is like to work in a facility with very high standards. For example, the protocols for disposing of foreign organic matter, or what to do when faced with parasitoids in our animals.
Another aspect that I did not think about was the protocols when having guests inside exhibits with the animals. It created unique barriers that educated myself as I overcame them. Overall, it was a life altering experience. I got to experience a field of work that I have wanted to for a long time. Not only that, it has since provided incredible opportunities, from diving with seals to medicating salamanders.