Environmental Educator internship. by Morgan DeMay
December 16, 2022
Open gallery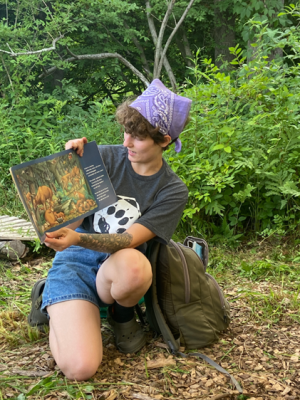 Internship as an Environmental Educator at The Rewilding School
For my internship, I worked at The Rewilding School as an Environmental Educator - Naturalist - and Head Gardener at the Marsh Sanctuary, Mt. Kisco, NY. As an intern at The Rewilding School, I assisted in educating preschool children (ages 2.5 - 4.5) about the skills and responsibility of maintaining an organic garden, and the skills, responsibility, and values of being an environmental steward. I also taught children ways in which they can participate in environmental conservation, how to use natural resources and the value of biodiversity within an ecosystem.
I received my Basic Life Support (CPR) certification, DEC Freshwater License, and Wilderness First Aid Certificate as preliminary measures prior to beginning as an educator. I would spend every Friday afternoon debriefing with other educators on what went well, and what didn't, how the kids liked the activities, what they learned, and what the educators learned.
My environmental education goals as an intern were to share the values, skills, and responsibilities of caring for nature, specifically how we can use the "leave no trace behind" trial approach. I also shared ways to be safe, and sustainable, harvest and forage ethically, and maintain an organic garden while expanding on each child's individual needs, interests, and creativity. I was able to educate the students about the local flora and fauna at Marsh Sanctuary (including but not limited to, Geese, Tadpoles, Bullfrogs, Bass Fish, American Robins, Dragonflies, Bumble Bees, Butterflies, and Worms).
I believe that the connection between the environment, the students, and I was a crucial factor in strengthening the children's confidence in their own abilities when in nature or forest settings. Watching the students grow and learn this summer left me feeling hopeful that future environmental stewards and activists will be confident, educated, and passionate about their work.