Purchase Women Leadership Network (PWLN)
The Purchase Women's Leadership Network (PWLN) focuses on the advancement of a woman's personal growth and career to achieve parity and transform culture.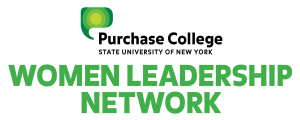 Women helping women cultivates the next generation of industry professionals to enact culture change, parity, inclusivity, and equal representation for a sustainable career. The Network creates an inclusive space that empowers women to celebrate and share resources toward achieving success. PWLN fosters a warm non-competitive environment that fosters friendship among its members which forges deep, lasting bonds across the globe.
With mentors to advance any career level, PWLN provides supportive, mindful candid communication on advancing career goals without selling yourself short. We are a group of forward-thinking women who believe collaboration and unity is key toward making a difference in the world and bringing about change."

PWLN is an affinity group of the Purchase College Alumni Association. It is led by a committee consisting of PCAA Board members and volunteers. All are welcome.
Membership / More Information

Email alumni@purchase.edu if you have questions about PWLN or for more information about any of the Purchase Alumni Affinity Groups.

Upcoming:
Jan

31

Whether you call it imposter syndrome or something else, we all experience moments of doubt or a flat out confidence crisis. During this PWLN Ask Me Anything (#AMA) event, co-chair Roxanna Lewis '90 and member Rebecca Bruckenstein '12 will lead a conversation about how to tap into your inner strength, embrace your personal narrative, and step boldly into 2023 and beyond.

Feb

21

Managing expectations (your own and others) at work can be tough. When is the right time to push for a promotion, raise, or to make a change versus taking the time to learn and absorb? How can we be patient with ourselves while still pursuing our goals? PWLN member Jen Hitchings '10 will lead a conversation about these and other questions through the lens of her experience as an artist, entrepreneur, and career advisor.