by María Irene Fornés
directed by Shadi Ghaheri

featuring Acting BFA Company 47 and the creative and production work of the Theatre Design/Technology BFA students
Performance Studio, The Center for Media, Film, and Theatre (CMFT room 2043)
Saturday, October 15, 2022 @ 7:30pm
Wednesday, October 19, 2022 @ 7:30pm
Friday, October 21, 2022 @ 7:30pm
Saturday, October 22, 2022 @ 1:30pm
---
Cast
Keymer Cuesta | Orlando
Daija North | Leticia
Sanise Lebron | Nena
Eklan Singh | Alejo
Noelle Backman | Olimpia
Creative & Production
Miles Miranda | Production Stage Manager
Ana Karen Esparza Aguilar | Stage Manager
Leo Griffin | Assistant Stage Manager
Quentin Qiao | Props Charge
Jeison Lenis-Lopez | Assistant Props Charge
Hope S. Rector | Costume Designer
Laura Sternbach | Assistant Costume Designer
Israel Hart | Technical Director
David Aab | Lighting Designer
Oliver Matheny-Plamondon | Assistant Lighting Designer
Cae Speicher | Programmer
Jack Bombard | Production Electrician
Julia Little | Sound Designer
Christopher Grainer | Assistant Sound Designer
Will Scherwin | A1
Kylie Cottrell | A2
---
Content Advisory
The Conduct of Life is intended for mature audiences. It includes staged scenes of violence, including gun violence, and discussion of torture. It contains sustained and recurring depictions of sexual assault.
Director's Note
The Conduct of Life portrays the hierarchy of power in a corrupted society. A society that abusively uses power to control and oppress its own people. Unfortunately, we are all familiar with examples of such societies today! But what is special about Fornes' Storytelling about the subject is that she is visualizing the hierarchy of this society in a household! In loose sequences of negotiation between Orlando (a Lieutenant commander), and three women: Leticia (his wife), Olimpia (his servant) and Nena (his 12 year-old slave). Husband and wife, Master and Servant, Torturer and victim.
Orlando starts the play by saying "Man must have an ideal, mine is to achieve maximum power." He wants Maximum Power! But the question is, what would he be willing to do, in order to achieve this ideal? Who in this society is going to pay for Orlando's achievement? Fornes questions where the line of tolerance in regard to abuse is for each one of us. When do we stand up and risk our lives to fight the corrupted power!?
In this story, when does Nena stand up for her rights? Where will Leticia stand up for hers? Why does each one of them choose a different conduct of life?
When do each one of us stand up to demand the corrupted power to STOP? Will we ignore the abuse as long as it isn't our problem? Will we be silent until the violence creeps to our bedroom door? When it does, What will you do?
Creative Team Profiles
Cast
Noelle Backman
Keymer Cuesta
Sanise Lebron is a third year acting major in Purchase's Theatre Conservatory program. She is from the Bronx, NY and has the pleasure of being Nena, in The Conduct of Life. Past Purchase credits include: Truth and Reconciliation (Wife), Babette's Feast (Young Lowenheilm & Leif), Pirandello Party (Lignota), and Barbecue (Marie). Other credits include: The Bennett Academy of Performing Arts, King of the Rodeo (Bobby Lynn). She would like to thank her family and friends for their constant love and support. And Her amazing director, Shadi Ghaheri for creating a safe space for us to tell such a powerful story. Much Love to Everyone!
Daija North
Eklan Singh
Creative & Production
Miles Miranda
Hope S. Rector (she/her) is a fourth year Costume Designer from New Hampshire. Purchase credits include Everybody (Costume Designer), Life is a Dream, and Judas (Assistant and Wardrobe Supervisor). Other credits include Carnegie Hall NYO (Stitcher/First Hand). Thanks to her family, Sam, and friends for constantly supporting her and being a great sounding board.
Israel Hart
David Aab is a fourth year Lighting Designer from Warwick, NY. His Purchase Rep credits include We Are Proud To Present (Assist. Lighting Designer), Dialogue of the Carmelites (Programmer), and Everybody (Sound Designer). Other credits of his include Cinderella (Lighting Designer) at Philipstown Depot in Garrison and Footloose (Lighting Designer) at The Warner Theatre in Torrington. He would like to thank his family, his girlfriend, and his friends for supporting him throughout his journey thus far.
Julia Little
Director Profile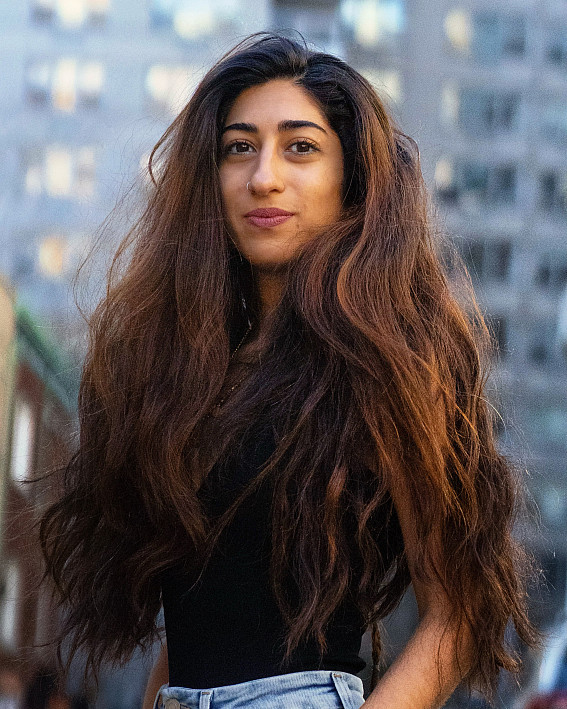 Shadi Ghaheri is a Theatre/Film director, Choreographer from Iran based in NYC. She has directed, Threshold of Brightness (BMP), Memorial (NYU Tisch) Banned,
(Broadway Bound), Glimpse (Rattlestick Theatre), Mother Courage (Hunter College), Fen (Columbia University), Untitled (Rattlestick Theatre), Lucretia (HERE), Death of Yazdgerd, Titus Andronicus (Yale School of Drama), The Slow Sound of Snow (Yale Cabaret). She co-curated Yale Summer Cabaret season, directing Trojan Women, and Lear. Also she co-founded/co-curated Emruz Festival, and Peydah Theatre Company. Shadi was a 2016 Paul and Daisy Soros Fellow, the 2018 directing fellow at Rattlestick Theatre and the winner of Robert L.B. Tobin Showcase 2019. She is looking forward to her future productions Selli
About the Conservatory of Theatre Arts
In our teaching and art, the Conservatory values inclusiveness, equality, and excellence. Upholding all of our training is our aim to train and graduate citizen artists: multifaceted people with a strong sense of purpose in approaching an arts education.
What is a citizen artist? Citizen artists seek to discover how their unique voices can contribute to our world. They understand what it means to be an artist, and what they are here on earth to say and do and make.
The Conservatory trains future citizen artists in three degree programs:
+ BFA Actor Training. The BFA is an intensive professional training program offered to a highly select and diverse group of students. The professional training is anchored in four years of study in acting, voice, speech, and movement, complemented by offerings in dramatic literature and analysis, history of the theatre, stage combat, improvisation, mask work, acting for the camera, and the business of acting. As one of five schools in the Consortium of Professional Theatre Training Programs, Purchase is one of a handful of colleges in the world capable of training artists at this level—and of drawing a faculty from the ranks of professional theatre
+ BFA in Theatre Design/Technology. Emphasizing studio and classroom training, our professional training program in theatre design/technology gives students the guidance and support of established and theatre industry professionals. Many of our alumni are recognized at the top of their field, and have received Tony, Emmy, Obie, and Drama Desk Awards, among other honors. Quite literally, Purchase grads are working in or have worked in every theatre on Broadway, in all tristate venues, and with countless touring productions
+ BA program in Theatre and Performance. From traditional theatre to cutting-edge interdisciplinary work, the theatre and performance major encourages creativity, intellectual curiosity, social engagement, and critical thinking. The core requirements combine scholarship and practice to provide students with a strong foundation in theatre history and dramatic literature, with mandatory stagecraft/production courses. Theatre and Performance majors are encouraged to expand the scope of their education by studying abroad, as well as pursuing coursework in other programs of study within the School of Liberal Arts and Sciences at Purchase College