We Are Proud To Present A Presentation About the Herero of Namibia, Formerly Known as Southwest Africa, From the German Sudwestafrika, Between the Years 1884-1915
by Jackie Sibblies Drury
directed by Raz Golden
featuring students in the Theatre and Performance BA and the Theatre Design/Technology BFA programs
Performance Theater, The Center for Film, Media, and Theatre, Purchase College, SUNY
Friday, March 11, 2022 @ 7:30pm
Saturday, March 12, 2022 @ 1:30pm & 7:30pm
Wednesday, March 16, 2022 @ 7:30pm
Thursday, March 17, 2022 @ 7:30pm
Friday, March 18, 2022 @ 7:30pm
Saturday, March 19, 2022 @ 1:30pm & 7:30pm
The performance runs approximately 90 minutes, with no intermission
---
Cast:
Actor 1/White Man | Sean Gordon
Actor 2/Black Man | Nahiem Paris
Actor 3/Another White Man | John Richard Mateyko
Actor 4/Another Black Man | Mekai Mack
Actor 5/Sarah | Emily Dziak
Actor 6/Black Woman | Sephora Lebete 
Creative & Production:
Assistant Director | Kailee-Jade Berrios
Production Stage Manager | Madi Morrissey
Stage Manager | Miles Miranda
Assistant Stage Manager | Marli Worden
Assistant Stage Manager | Ana Karen Esparza Aguilar
Scenic Designer | Abbie Perez
Assistant Scenic Designer | Matilyn Tamplin
Paint Charge | Sean Lillis
Props Charge | Quentin Zhengxue
Costume Designer | Sabrina Ehrenstein
Assistant Costume Designer/Wardrobe | Han German
Technical Director | Kyle McMahon
Production Carpenter | Dom Bogetto
Production Flyperson | Connor McGlone
Lead Technical Draftsperson | Autumn Brathwaite
Lead Scenic Carpenter | Sofia Lavion
Lighting Designer | James Deng
Assistant Lighting Designer | David Aab
Master Electrician | Jeremy Burd
Deck Electrician | John Hoag
Programmer | Olivier Plamondon
Projection Designer | Marshall Peace
Projection Operator | Matt Lazzarino
Sound Designer | Meredith Young
Assistant Sound Designer | Ben Free
Sound Board Operator (A1) | Katie Thorn
Composer | Mario Gutierrez
Content Advisory
Please note that the production contains images and dramatizations of racial violence as well as violent language including racial slurs; the production also makes use of flashing lights.
Creative Team Profiles
The Cast:
Sean Gordon is a fourth year theatre & performance major from Albany, New York. Purchase credits include: How I Learned to Drive (Uncle Peck), Dance Nation (Dance Teacher Pat), Short Eyes (Clark), and A Robot Wrote This. Other credits include The Best Man's Privilege (Groomsman), Sow A Little Tenderness (The Director), and Castaway: Hamlet (Castaway 6/Laertes). Thanks so much to his parents for their consistent support. Plus, all the love for H2-2.
Nahiem Paris is a third year theatre performance and arts management double major, from Buffalo, New York. Other credits at Purchase include: Purgatorio Wonderland as child 3/Old man, Frame(d) as Mr.Emerald. Other credits are Almost Maine (Jimmy), Akeelah and the Bee (Reggie Anderson), Radium Girls (Tommy/Dr.Knef). Nahiem is overly grateful for his supportive friends and family.
John Richard Mateyko is a third year theatre and performance major from Long Beach, New York. Past credits include: The Winter's Tale (Clown) at New York Shakespeare Exchange and A Passage in Relief (Snelgrave) as part of the ONE FLEA SPARE Project. All his love to his friends and his father for their love and support.
Mekai Mack is a first year theater and performance major from Brooklyn, New York. Purchase credits include: Choir Boy (Pharus), Pipeline (Omari). Many thanks to his family and everyone else who supports him!
Emily Dziak is a third year theatre and performance major with a minor in arts management from Cortlandt Manor, New York. Her credits include The Effects of Gamma Rays on Man-In-The-Moon Marigolds (Beatrice), Kodachrome (Suzanne/The Photographer), and The Green Plays Project (Kara/Actor B). Much love and many thanks to her family, friends, and educators for their wisdom, encouragement, and endless support.
Sephora Lebete is a third year playwriting & screenwriting major from Queens, New York. She transferred from Queensborough Community College. While there, she majored in theatre. We Are Proud To Present… will be her first show in Purchase. Sephora thanks God, who she always puts first, her family, and Nicki Minaj.

The Design and Production Team:
Kailee-Jade Berrios is a second year theatre and performance major from Bronx, New York. Purchase credit: For Colored Women (Women in Green) Other credit: Grease (Sandy) The Wiz (Dorothy), Once on this Island (Asaka), Little Shop of Horrors (Audrey), UrineTown (Penelope Pennywise). Special thanks to friends, family, and to my number one fan my mother thank you so much for always being there and supporting me through my journey.
Madi Morrissey is a fourth year theatre design/technology major with a double concentration in stage management and technical direction from Troy, New York. Past credits include: Fen (assistant stage manager), Right Behind You (stage manager), The Last Days of Judas Iscariot (lead technical designer), As You Like It (technical director), Sweat (technical director), Everybody (technical director), Babette's Feast (production carpenter) and Life is a Dream (technical director). Other credits include work at The Santa Fe Opera as an apprentice. Madi would like to thank her beautiful roommates and family that have helped her through the last 4 years.
Abbie Perez is a fourth year scenic designer from the Jersey Shore. Their past Purchase credits are Fen, What to Send Up When it Goes Down, Eclipse, As You Like It, and Babette's Feast. Abbie is very proud of the show and is very grateful to everyone for working as hard as they have!
Sabrina Ehrnstein (They/Them) is a third year BFA dual concentration costume major in both design and technology. Purchase Rep. credits include Purgatorio Wonderland (Costume Design Assistant/Wardrobe Supervisor); Dialogue of the Carmelites (Stitcher); Marisol (Costume Crafts). Professional credits include Nina Simone: Four Women (Wardrobe/Stitcher/Costume Crafts); The Importance of Being Earnest (Wardrobe/Stitcher) at Berkshire Theatre Group. Grateful for the opportunity to create art every day.
Kyle McMahon is a fourth year, Brooklyn born TD in the BFA Technical Theatre program here at SUNY Purchase. Some of his past credits at Purchase include: Technical Director for Babette's Feast, Production Carpenter for the Spring Opera in 2021, and Head Rigger for The Last Days of Judas Iscariot. He'd love to thank all of the technicians and designers he has had the pleasure of working and learning with for the past 4 years for all of their support.
James Deng is a fourth year lighting designer from Brooklyn, New York. Purchase production credits include: Sweat, A Brutal Bliss, In the Middle Somewhat Elevated (LD), As You Like It (ALD), Dance Nation (ALD), Marisol, A Bright Room Called Day (Programmer), Bibles & Candy, and Helen (ME). He would like to thank his friends, family, and mentors who have pushed him and allowed him to continue to grow to the person he is today.
Meredith Young is a fourth year Technical Director from Rushford, New York. Purchase credits include: The Last Days of Judas Iscariot (Production Carpenter), As You Like It (Lead Technical Designer), and Dialogue of the Carmelites (Lead Flyman). She would like to thank her best friend Abbie Perez and her twin sister, Sydney.
Mario Arturo Gutierrez is a second year Studio Comp Grad Student from Manhasset NY. Composer, producer and session musician under the surname "niecesandnephews" has been working in sessions all across the country with artists of all different genres. A special thanks to all of you that have come here tonight. It continues to light our journey into the passion and we thank you for that. Enjoy.
Director Profile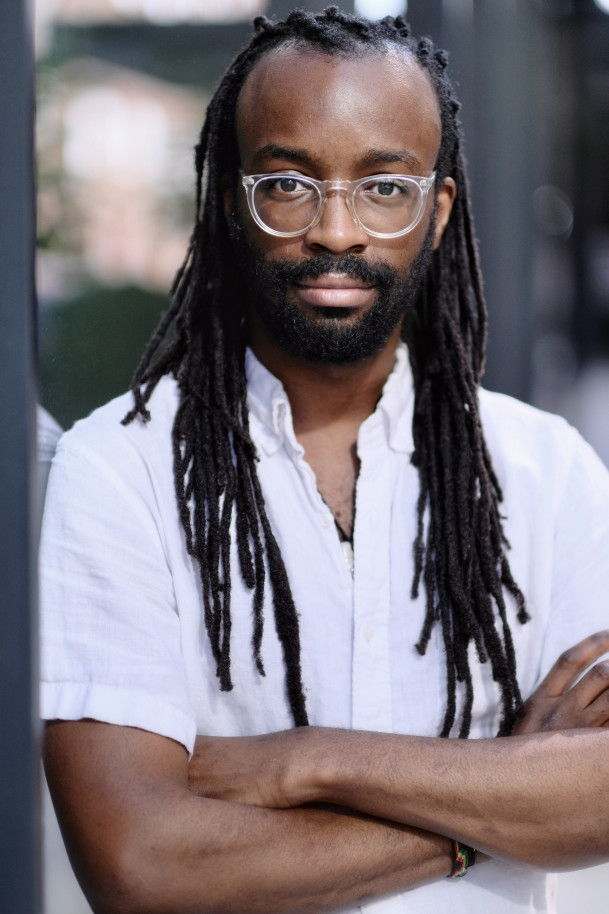 Raz Golden is a director of theatre, film, and audio. He focuses on new and classical texts, as well as narratives that explore shared cultural histories and myths and that center people of color. His directorial work, no matter the medium, embraces collage and juxtaposition, speculative genres, and multiple modes of storytelling.
Raz is a 2019 Drama League Classical Directing Fellow and a former Resident Director at The Flea. He has developed work with the Public Theatre, IATI Theater, The National Black Theatre, NYU Tisch, Hudson Valley Shakespeare Festival, Waterwell, Williamstown Theatre Festival, and McCarter Theatre. He is currently a member of the Drama League Director's Council and the Roundabout Directors Group.
As a filmmaker he has collaborated on numerous projects with the creative agency Adventure We Can and recently worked as the lead video editor for Eisa Davis' installation at PSNY: The Essentialisn't: Gold Taste.
Directing: The Mountaintop by Katori Hall (Weston Playhouse), Queen of the Night, a new play by travis tate (Dorset Theatre Festival), Macbeth (HVSF), Venus (Waterwell/PPAS), In The Same Space (Dixon Place), East of the Sun (WTF Directing Studio)
Assistant Directing: Romeo y Julieta, Shipwreck, Richard II (dir. Saheem Ali), Merry Wives of Windsor (dir. Kevin Coleman), Cyrano (dir. Meredith McDonough), Long Lost (dir. Daniel Sullivan).
About the Conservatory of Theatre Arts
In our teaching and art, the Conservatory values inclusiveness, equality, and excellence. Upholding all of our training is our aim to train and graduate citizen artists: multifaceted people with a strong sense of purpose in approaching an arts education.
What is a citizen artist? Citizen artists seek to discover how their unique voices can contribute to our world. They understand what it means to be an artist, and what they are here on earth to say and do and make.
The Conservatory trains future citizen artists in three degree programs:
+ BFA Actor Training. The BFA is an intensive professional training program offered to a highly select and diverse group of students. The professional training is anchored in four years of study in acting, voice, speech, and movement, complemented by offerings in dramatic literature and analysis, history of the theatre, stage combat, improvisation, mask work, acting for the camera, and the business of acting. As one of five schools in the Consortium of Professional Theatre Training Programs, Purchase is one of a handful of colleges in the world capable of training artists at this level—and of drawing a faculty from the ranks of professional theatre
+ BFA in Theatre Design/Technology. Emphasizing studio and classroom training, our professional training program in theatre design/technology gives students the guidance and support of established and theatre industry professionals. Many of our alumni are recognized at the top of their field, and have received Tony, Emmy, Obie, and Drama Desk Awards, among other honors. Quite literally, Purchase grads are working in or have worked in every theatre on Broadway, in all tristate venues, and with countless touring productions
+ BA program in Theatre and Performance. From traditional theatre to cutting-edge interdisciplinary work, the theatre and performance major encourages creativity, intellectual curiosity, social engagement, and critical thinking. The core requirements combine scholarship and practice to provide students with a strong foundation in theatre history and dramatic literature, with mandatory stagecraft/production courses. Theatre and Performance majors are encouraged to expand the scope of their education by studying abroad, as well as pursuing coursework in other programs of study within the School of Liberal Arts and Sciences at Purchase College