Kate Gilmore Wins ArtPrize 7 Grand Jury Award
Associate Professor of Art+Design 
Kate Gilmore
 won the Juried Grand Prize worth $200,000.
Described on its website as a "radically open, independently organized international art competition," ArtPrize invites artists to show their work over three square miles in downtown Grand Rapids, MI over the course of two and a half weeks each fall. This year marked the seventh competition, which awards multiple prizes based on both jury selections and public votes.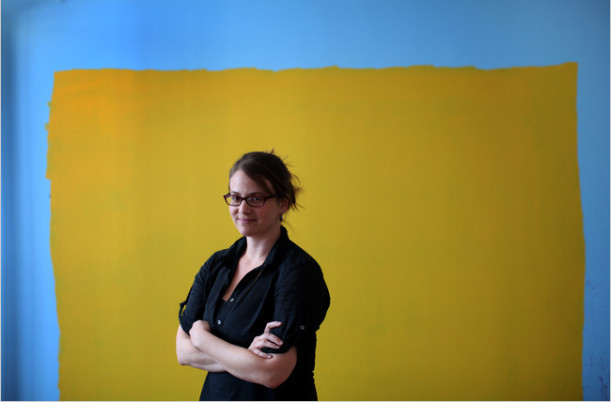 Kate Gilmore Credit: (Todd Heisler/The New York Times)
A work of art by Associate Professor of Art+Design Kate Gilmore won the Juried Grand Prize worth $200,000. Her entry, Higher Ground, was a performance piece in which she painted a former private home, later used as a convent, bright pink.
Nine women dressed identically in white dresses and red shoes were perched on swings hung just inside open windows. Lit from within the red-painted interior, the women would work shifts swinging through the open windows.
The piece touches on themes often found in her work such as female identity, repetition, endurance, and power structures.
Higher Ground (pictured above) was part of the Rumsey Street Project by SiTE:LAB, which transformed several unoccupied buildings slated for demolition in 2017, including a church and rectory, body shop, and several residences, as well vacant lots, into art installations.
View more images and hear the jurors describe their experience with Higher Ground.