Symara Johnson '19 Named Outstanding Breakout Choreographer
The Bessie Award category honors an artist who has made an exceptional leap in their career.
---
Symara Johnson '19 (Dance, Arts Management minor) is the Outstanding Breakout Choreographer for 2023, according to the New York Dance and Performance Awards, known as the Bessies, announced on August 4.
The category awards an artist who has made an exceptional leap in their career in the past year. 
"The Bessies, or The New York Dance and Performance Awards, have saluted outstanding and groundbreaking creative work by independent dance artists in NYC for 39 years. Known as 'The Bessie' in honor of revered dance teacher Bessie Schönberg, the awards were established in 1984 by David White at Dance Theater Workshop. They recognize groundbreaking work in choreography, performance, music composition, visual design, legacy, and service to the field of dance," reads bessies.org.
Johnson is a company member at Urban Bush Women.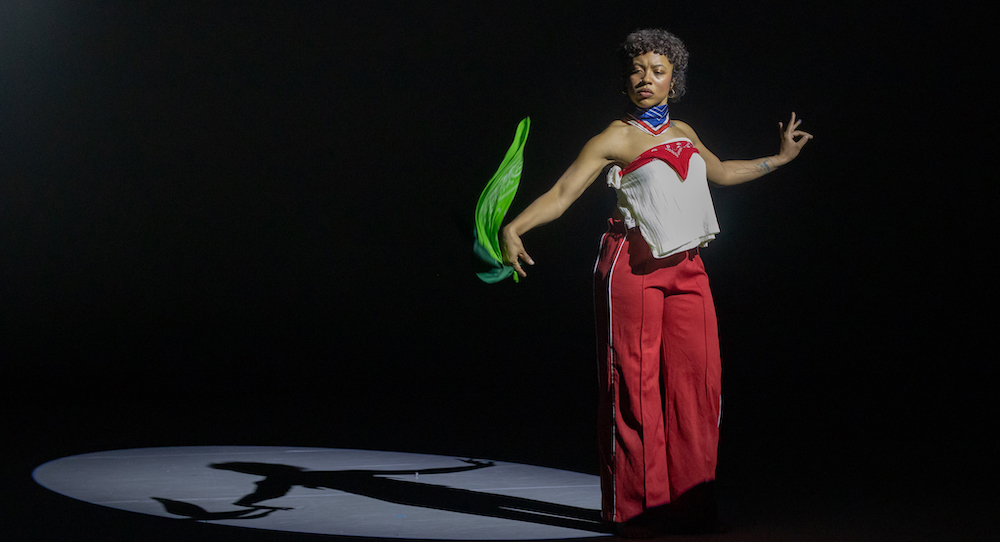 Symara Johnson '19 performs "Symara and her Lasso" at The Clarice Smith Performing Arts Center (Production Design: Peter Leibold; Video and Audio Design: Zavier Taylor; Photo: Justin Williams)
Johnson performed "The Kitchen Sink Wrangler at the Midnight Rodeo" at Out-FRONT! Festival 2023 in January, a New York Times Critic's Pick.
---
Johnson has immersed herself in interdisciplinary and choreographic studies globally. Her work varies due to the different influences she's embraced throughout her life.
As a recipient of the Dai Ailian Foundation Scholarship based in Trinidad and Tobago, Johnson spent two years gaining an associate in modern choreography at the renowned Beijing Dance Academy.
Read Symara Johnson's career profile.